LiveSmart: Step Up and Decrease Your Risk of Falling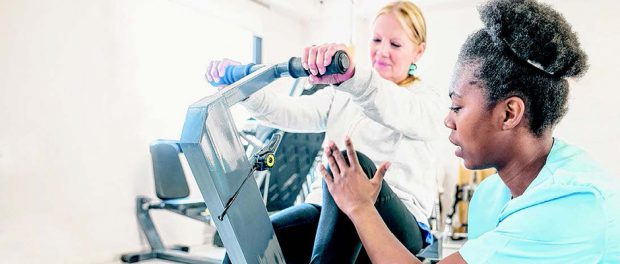 [This piece was written by Misty Jones, supervisor of Rehabilitation Services for St. Peter's Health Partners.]
Each year, more than two million people are treated in emergency departments nationwide for non-fatal falls. Of those, approximately 700,000 patients were admitted to the hospital for treatment of injuries ranging from fractures to lacerations, with some as serious as head trauma and internal bleeding.
According to the Centers for Disease Control and Prevention, an average of 1,000 deaths occur each year in New York state as a result of falls. Nationally, falls are the sixth leading cause of death for individuals over the age of 65.
Falls are more common and cause more injury than many realize. The key to fall prevention is identifying why individuals, especially seniors, are prone to falling and then managing the individual's underlying risk factors.
Among older adults, falls generally occur due to:
Physical conditions (weakness, dizziness, balance issues)
Visual disturbances
Hearing deficits
Medication side effects
Environmental obstructions
When physical conditions are suspected, the first step is to visit a primary care physician. They can conduct a complete physical, identify issues that could increase your risk for a fall, and provide a referral to physical therapy or occupational therapy services.
A physical therapist can work with you to create an individualized assessment of fall risk. They can craft a treatment plan to address issues of strength, flexibility, balance, behavioral risk factors, and environmental risk factors.
An occupational therapist can assist you in focusing on daily activities to help you remain as independent as possible despite injury, illness or disability. They can teach how to safely perform important daily activities, as well as provide suggestions on home modifications to decrease fall risks.
St. Peter's encourages you to take a simple fall risk questionnaire HERE. Print it out, answer the questions, and add up the number of points for each "yes" answer you provide. If you score four points or more, you may be at risk for falling. Please make an appointment with your primary care physician and be sure to bring the questionnaire with you!
St. Peter's Health Partners (SPHP) started a Fall Risk Coalition two years ago to decrease fall risk and injury in our community. The coalition includes caregivers from various disciplines in a variety of settings including emergency medical services, primary care offices, acute care hospitals, rehab, home health, and outpatient clinics. More than 300 patients were identified with and treated for increased fall risk at SPHP outpatient sites in 2017.
SPHP offers a variety of outpatient physical and occupational therapies at locations throughout the Capital Region, accepting all insurances and providing quality one-on-one treatment. For information, please call one of our convenient locations.
Patient Therapies

Albany (Albany Memorial Hospital) – (518) 471-3195

Albany (Western Avenue) – (518) 525-5588

Clifton Park – (518) 268-4800

East Greenbush – (518) 286-4990

Glenville – (518) 386-3579

Guilderland – (518) 356-3139

Latham – (518) 382-4593

Schenectady – (518) 382-4530

Slingerlands – (518) 475-1818

Troy – (518) 268-5749