LiveSmart: Trick or Treat! Simple Safety Tips for a Happy Halloween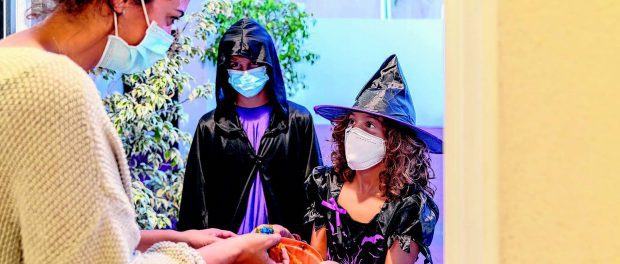 [This article was written by Mark Osborn, M.D., Chief of Pediatrics for St. Peter's Hospital, and a provider with St. Peter's Health Center for Children.]
Halloween is this weekend and kids everywhere are likely celebrating the news that the Centers for Disease Control and Prevention (CDC) has given the green light for more traditional trick or treating this year. This is a change in advice from last year, which prompted many homeowners to get creative to maintain social distancing but still get treats to all the little ghouls and goblins.
So, while Halloween may look a little more normal this year, it is still wise to take precautionary measures. Community COVID transmission remains high, so crowded Halloween parties and indoor "trunk or treat" events are not recommended. Outdoor trick or treating in small groups – masked and with proper physical distancing – presents a low risk.
If you decide to go out trick or treating, remember:
Parents
Talk with your children about safety and social distancing guidelines and expectations.
Carry a flashlight and ensure your children have reflective clothing.
Wear a mask and maintain respectful social distancing.
Keep in mind your child will be walking up steps and over unfamiliar terrain, so they should have on sturdy shoes, and costumes should not be too long/unwieldy as to present a tripping hazard.
Stay in your group on well-lit streets and sidewalks.
Don't assume the right of way. Motorists may have trouble seeing pedestrians – just because one car stops doesn't mean others will.
Be alert! Children and parents alike need to stow away the smart phone while out and about for treats. Don't be staring at your device when you should be aware of your surroundings.
Inspect candy before consumption.
Trick or Treaters
Do not trick or treat if you are sick.
Wear a mask – a costume mask should not be used in place of a cloth face covering.
Trick or treat in small groups, preferably people you live with or friends you see daily in school.
Remain 6 feet apart from people not in your household.
Homeowners
Do not hand out candy if you are sick.
Wear a mask, keep your distance and wash your hands frequently.
As an alternative to directly handing out candy, line up candy in an open area, like a driveway, in pre-packaged bags.
For more Halloween safety tips, visit https://www.halloween2021.org/
St. Peter's Health Center for Children, 1092 Madison Avenue in Albany, offers a complete range of services for children from newborns to age 18. Services include well-child routine care, sick child exams, school and camp physicals, sports physicals, immunizations, health maintenance and education, and access to other hospital services and referrals to specialists. Call 518-525-2445 for more information or an appointment.