LiveSmart: Vicarious Trauma – Self-Care and Balance are Critical for Survival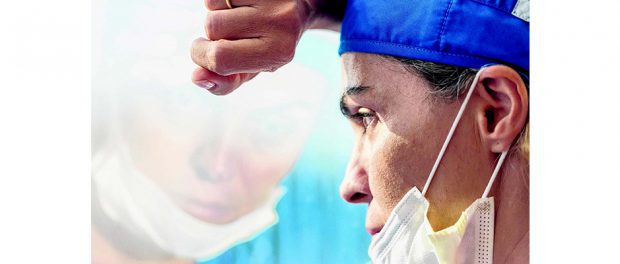 [This story was written by Grace I. Coons, MSN, RN, FNP-BC, NYSAFE, SANE-A, supervisor of SPHP's Forensic Nurse Examiner Program, part of St. Peter's Crime Victim Services.]
Soul sadness, compassion fatigue, compassion stress, secondary post-traumatic stress reaction, secondary trauma – these are just a few names for the experience known as vicarious trauma. Vicarious trauma is experienced and happens over time as an individual works closely with someone who has experienced trauma, a disaster or a serious struggle.
Not surprisingly, as the COVID pandemic recently passed the one-year mark, vicarious trauma has been a prominent topic for those who work in health care. For professionals who work in crime victim services, forensic nursing, and forensic examinations, this has long been an identified issue, with a framework in place to guide professional and personal practices in order to reduce the impact.
The Forensic Nurse Examiner Program at St. Peter's Health Partners is the healthcare team's response unit to reports of violence from a patient (e.g. sexual assault, domestic violence, physical assault, elder abuse, neglect, mistreatment, human trafficking and/or suspected or reported child abuse). There is a delicate balance needed to be emotionally available and a source of security and support to a patient in their time of immediate need, while also maintaining an emotional boundary to keep one's self safe.
It is important to know that vicarious trauma is not burnout, where the work environment is too demanding, stressful or unrewarding. With vicarious trauma, providers may find their own emotions compounding over time, due to repeated, stressful encounters with patients who are victims of violence or impacted by the COVID pandemic.
Symptoms of vicarious trauma include no time and energy, disconnection, depersonalization, social withdrawal, sensitivity to violence, cynicism, despair, hopelessness, sleep disturbances, disruption in frame of reference, diminished self-efficacy and alterations in sensory experiences.
Encouraging self-care for patients, their loved ones and their health care providers is critical. Finding balance between work, play, family and other things that are meaningful to you is key. Identify those things that bring you personal joy and satisfaction in order to reduce and prevent vicarious trauma.
Additional ways to reduce vicarious trauma include:
Debriefing with colleagues and peers
Journaling
Developing personal rituals/routines
Mindfulness
Taking breaks throughout the day, or temporarily stepping away from difficult situations
Modifying a work schedule to decrease caseload or severity
The Forensic Nurse Examiner Program is part of St. Peter's Crime Victims Services. If you or someone you care about is feeling the effects of vicarious trauma, free and confidential services are available by calling our 24-hour hotline at 518-271-3257. Acute forensic examination services are available at all of SPHP's emergency departments, 24/7, with no appointment necessary.
For more information about Crime Victim Services, please visit our website at sphp.com/crimevictimservices.