Two Samaritan Hospital Nurses Honored with DAISY Award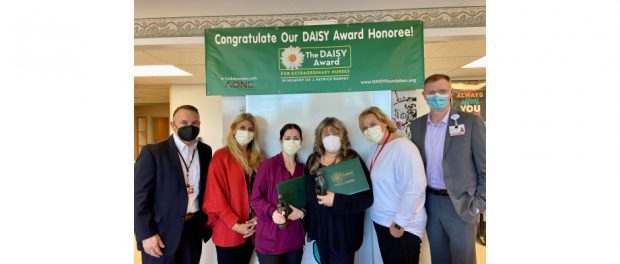 Renee Schepisi, RN, and Abigail Belarge, RN, of Samaritan Hospital, recently received a DAISY Award for Extraordinary Nurses for their exceptional care that ultimately reunited two long-lost brothers.
Schepisi, a nurse in Samaritan's Behavioral Health Services, was the lead nurse for a man named Will, a homeless veteran found living in a tent in Albany County in April of 2022. Schepisi had a hunch someone might be searching for Will, so she enlisted the help of Belarge.
Belarge used the social media site Linkedin to track down Will's brother, Walt, who was living in Colorado. Schepisi's hunch was right; Walt had been searching for Will for more than 30 years.
After an emotional reunion at Samaritan Hospital, Walt and Will traveled back to Walt's home in Colorado where they are now living. Schepisi has stayed in touch with Walt and receives regular updates on Will, whose mental health has improved significantly.
In her DAISY Award nomination, Heather Sherman, manager, Behavioral Health Services, described Schepisi as a nurse who always goes beyond the call of duty for her patients.
"She provides exceptional, patient-centered care to every one of her patients," said Sherman. "After 28 years of service with the behavioral health population, you would think her passion would start to fade away. Instead, the passion and devotion continue to grow. She is a true inspiration to all who work with the mental health population."
The award is part of the DAISY Foundation's program to recognize the contributions nurses make every day in the care of patients. The not-for-profit DAISY Foundation is based in Glen Ellen, California, and was established by family members in memory of J. Patrick Barnes. Patrick died at the age of 33 in late 1999 from complications of Idiopathic Thrombocytopenic Purpura (ITP), a little known but not uncommon auto-immune disease. The care Patrick and his family received from nurses while he was ill inspired this unique means of thanking nurses for making a profound difference in the lives of their patients and patient families.
Other nurse nominees from the Samaritan, St. Mary's, and Albany Memorial campuses include:
Emily Braunstein, Adult Psych
Robin Buckley, Adult Psych
Lisa Cole, OR
Nicole Funk, Burdett Birth Center
Bindu Jose, 3 Pav
Karen Lange, Infusion Center
Maureen Murphy, Burdett Birth Center
Joslyn Naberezny, Burdett Birth Center
Leyla Navedo, 3 Pav
Taylor Wenk, Burdett Birth Center