St. Peter's Hospital College of Nursing Donates Food to Veterans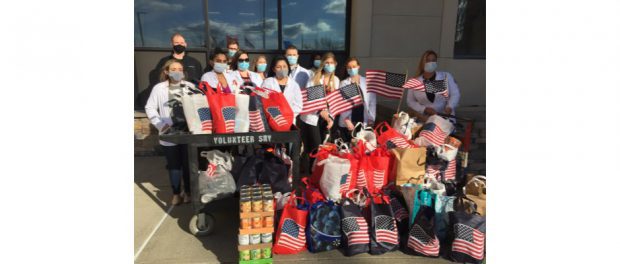 On November 24, 2020, students from the St. Peter's Hospital College of Nursing donated 1,500 non-perishable food items to the Albany Stratton VA Medical Center's food pantry.
With access to food pantries in the community limited due to COVID-19, the food drive will help meet the needs of a very vulnerable population.
The Albany Stratton VA Medical Center estimates that since the start of the pandemic in March, it has served roughly 900 veterans and issued nearly 24,000 items including clothing, food, meal vouchers, toiletries, gift cards, and other comfort items. This increased need is expected to become even greater over the winter months, especially as COVID-19 cases continue to increase.
Jennifer Moore recognized this growing need first-hand during her shifts as a nurse in the VA's emergency department. Moore, who is also the Nursing 2 Course Chair at St. Peter's Hospital College of Nursing and former SPHP Nurse of the Year in 2016, has seen the number of homeless veterans increasing while simultaneously witnessing the VA's food pantry supplies dwindling. That's because the pandemic has led to a reduction in the volunteer work force and consequently, a significant drop in donated food items. So, Moore mobilized 100 of the college's students, four of whom are veterans themselves representing the Army, Navy, and Marine branches, and launched the food drive for veterans in October.
"My husband is a former Sergeant in the Marine Corps. We are also Catholics and have dedicated our lives in service to others," said Moore. "What better way to teach nursing students about service other than by recognizing and responding to this need?"
In addition to the 1,500 food items donated to the VA, a veteran who did not wish to be identified, gave a monetary donation to Moore so they could buy more food for the pantry. Moore says she and her students plan to make the food drive an annual Thanksgiving tradition.
"Truly, we are teaching these students to live our core values," remarked Moore. "It is a beautiful thing."