Daily Gazette: Schenectady's Ellis Hospital, Other Capital Region Facilities Detail Readiness for COVID-19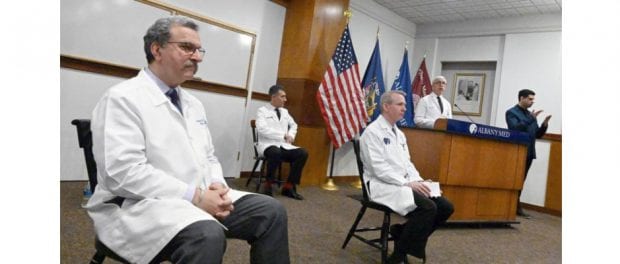 The Daily Gazette reported on preparations being made by Capital Region hospitals as COVID-19 continues to spread in the area. Clinical leaders from ten regional hospitals, including St. Peter's Health Partners, detailed how their facilities plan to increase capacity by at least 50 percent.
From the article:
The Capital Region hospitals said they would complete their surge plans and submit them to the state later Tuesday, as ordered. St. Peter's Health Partners said it can add 663 acute-care beds to the 702 across all its facilities without having to go beyond the walls of those facilities, and ramp up from 48 to 150 ICU beds. Ellis Medicine can boost its bed count 65 percent overnight and boost its ICU count nearly 100 percent almost as fast. Columbia Memorial is ready now to boost bed count 65 percent and can jump more than 100 percent with a little time and help from the state; it can increase its ICU beds more than 100 percent. St. Marys, with a normal inpatient population of 50 to 60, will be able to accommodate about 180 and boost its ICU capacity from eight to more than 20.
Click here to read the full article.