Times Union: 'All the Right Ingredients'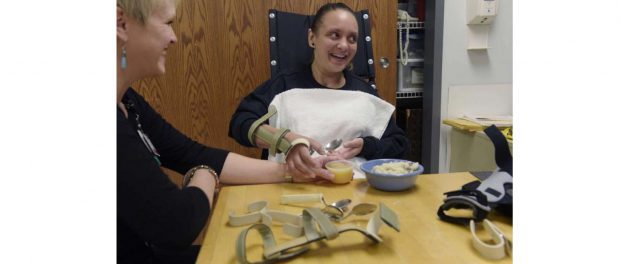 The Times Union published a story about Morgan Waite, a young patient at Sunnyview Rehabilitation Hospital in Schenectady who in August dove unknowingly into the shallow end of a pool and broke her neck. After undergoing two surgeries, Waite is now working with Sunnyview occupational therapists and technicians to build up her strength and regain manual dexterity.
From the story:
The chef had been unable to feed herself for three months.

"I have enough strength and control to get the spoon to my mouth, but because of my wrist, the spoon's always at a weird angle," said Morgan Waite.

"You're in luck," said Paula Lawrence, an occupational therapist at Sunnyview Rehabilitation Hospital in Schenectady. It was mid-November, the first time the two had met for an OT appointment, and Lawrence, a 15-year veteran of the field, was assessing Waite's abilities. Having worked with many patients who have minimal or no control of hands and fingers as a result of spinal-cord injuries, Lawrence said, "I have a box full of spoons that are modified already, and I'm an expert at bending metal. Show me what you can do."

Lawrence tucked the handle of a pre-bent spoon into a slot in the brace Waite wore on her right wrist.

…

Since returning home, Waite's muscle control has extended below her neck to her biceps and forearms. She hopes to regain manual dexterity. She's seen patients at Sunnyview, former paraplegics, walking again with the assistance of high-tech robot exoskeletons.

"My doctor said I have all the right ingredients to come out a success story," Waite said. "We don't know what that might look like yet, but I liked his choice of words."
Click here to see the full Times Union story.