WTEN: Albany Hospitals Warn of Longer ER Wait Times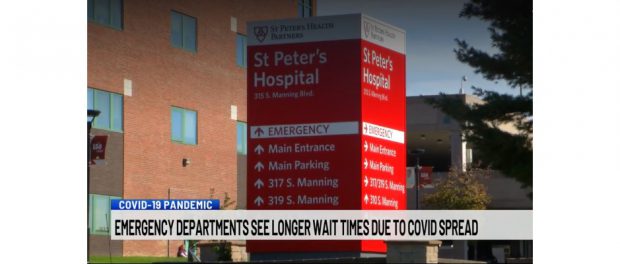 WTEN/News10 reported on the warning from area hospitals, including St. Peter's and Samaritan hospitals, of extended emergency room wait times.
From the story:
"With the current positivity rate in the community, emergency departments are experiencing a capacity emergency," said Dr. Steven Hanks, Chief Clinical Officer, Chief Operating Officer, and Acting CEO for St. Peter's Health Partners. "Between our current inpatient numbers and the surge in COVID cases, all of our area's emergency departments are reporting longer wait times for patients seeking care. We understand that people are frustrated with the longer wait times and ask for their patience and respect for our health care providers."

The group of leaders says that patients in need of non-emergency care should find routes other than the emergency room, including visiting their primary care physician or an offsite urgent care center operated by Albany Med, St. Peter's or Ellis. Serious symptoms, such as high fever or breathing trouble, should still be met with a 911 call or a visit to the emergency room.
Click here to watch WTEN's report.