WTEN: Health Care Workers Mark Int'l Women's Day, Vaccine Rollout with Syringe-Shaped Flight Plan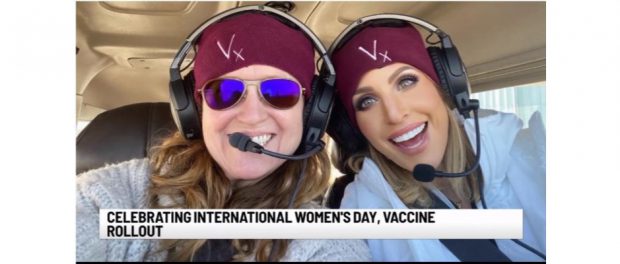 St. Peter's Health Partners colleagues, Amanda Stahl, M.D., a hospitalist at St. Peter's Hospital, and nurse anesthetist Morag Bell, marked International Women's Day in a unique way — they flew a plane over upstate New York following a syringe-shaped flight plan. Their journey not only honored women, but also raised awareness about the importance of getting vaccinated against COVID-19. It was featured on WTEN/News10.
From the story:
Stahl and Bell mapped out the journey with a special tribute to  took off on a unique flight. There was no destination, but the journey was all mapped out.

"The easy way to do this would be to use auto pilot, but we hand flew it," said Stahl, who says she never backs down from a challenge.

Stahl was in the pilot's seat with navigation help from Bell.

"She was Maverick and I was Goose and it was cool, we want to get the word out that vaccines are so important," said Bell.

That's why they carved out a careful path—plotting their route in the shape of a sky-high syringe!
"There's an end in sight, there's a light at the end of the tunnel and there's is no downside to getting this vaccine, in my mind, there's only a potential upside," said Stahl.

"It's just so nice to know that we are coming to an end of this," said Bell.

After two hours in the sky, covering more than 200 nautical miles, the intricate flight plan was executed to perfection.
Click here to watch WTEN's report.