Capital Region's First Inspire Upper Airway Stimulation Therapy for Obstructive Sleep Apnea Performed at St. Peter's Hospital
Keith Flinton is used to being exhausted. He has obstructive sleep apnea (OSA). For years, he has relied on three to four extra-large cups of coffee a day to get him through the workday. Now, thanks to ear, nose, and throat surgeons Siobhan Kuhar, M.D., and Jessica Riccio, M.D., with Albany ENT and Allergy Services (AENT), he has cut his coffee intake by more than half, and is finally starting to get the rest he has desperately been seeking.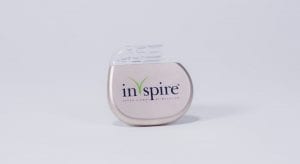 On August 27, Flinton became the first patient in the Capital Region to receive the Inspire Upper Airway Stimulation Therapy for OSA. Dr. Kuhar, who is board-certified in sleep medicine and a staff physician at St. Peter's Sleep Center, performed the procedure at St. Peter's Hospital. Dr. Kuhar activated Flinton's device on September 24.
"It was amazing. It was just such an incredible feeling to see it all working," said Flinton, who works as an information associate in the St. Peter's Hospital Emergency Department. "I'm just so proud to be the first patient in the area to receive it, especially as an employee of St. Peter's. How many people get that opportunity?"
"It's extremely exciting," Dr. Kuhar said. "These patients are really struggling with moderate to severe apnea. Many have tried CPAP therapy, but can't tolerate anything on their faces, or have just never been able to acclimate to it."
Flinton was one of those patients. He and his wife were newlyweds when he was prescribed continuous positive airway pressure (CPAP) therapy. Like many patients, Flinton struggled to use it consistently. Not only was it uncomfortable and noisy, it also interfered with his new bride's sleep.
"It got to the point where we were sleeping in separate bedrooms because of it," Flinton said.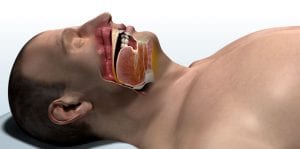 OSA affects 18 million Americans. When left untreated, OSA can lead to devastating effects on heart and brain health, impair quality of life, and increase motor vehicle and workplace accidents. It occurs when the airway collapses during sleep and blocks the flow of oxygen to the brain. The brain senses a lack of oxygen and wakes the body up just long enough to take a breath, then falls back asleep. This cycle repeats throughout the night and causes poor, disruptive sleep.
Unlike CPAP therapy, which uses a hose and mask to deliver constant and steady air pressure, Inspire works inside the body to help restore a patient's natural breathing process. Implanted during a minimally invasive outpatient procedure, Inspire uses mild electrical stimulation, similar to a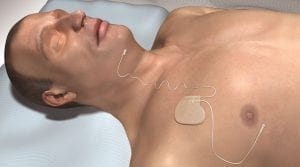 pacemaker, to keep the airway open during sleep, allowing oxygen to flow naturally. The patient uses a small handheld remote to turn the device on before bed and off when they wake up.
"Historically, with cases of moderate to severe apnea, surgery might be considered," Dr. Kuhar said. "Patients would often require more than one procedure, which could be very invasive and permanently change their anatomy. This is much safer, does not require any ongoing upkeep, is technically reversible, and very portable."
Most patients return home the same day as the procedure and take over-the-counter pain medications, as needed, during their recovery.
For Flinton, the experience was something he fought for, and is grateful to have had.
"I don't snore anymore, my wife is sleeping better, and I'm not waking up nearly as much," he said. "I feel more rested than I did with the CPAP, and am just extremely happy."
"By offering Inspire therapy, St. Peter's Hospital once again has proven its dedication to providing the highest quality of care and cutting-edge technology for its patients, with the ultimate goal of improving their quality of life," said Alan Sanders, M.D., chief medical officer for St. Peter's Hospital, an affiliate of St. Peter's Health Partners.
The safety and efficacy of Inspire therapy was measured during the Stimulation Therapy for Apnea Reduction (STAR) clinical trial. One-year STAR trial results were published in the January 9, 2014 edition of the New England Journal of Medicine. Those results showed patients using Inspire therapy had significant reductions in sleep apnea events and significant improvements in quality of life measures. These significant reductions and improvements were sustained over a five-year follow-up period.
Inspire therapy is intended for patients who are diagnosed with moderate to severe OSA; are unable to use or get benefit from CPAP; are not obese; and are 22 years of age or older.
For more information on sleep apnea and treatment options, including Inspire, please call St. Peter's Sleep Center at 518-464-9999.