Eddy SeniorCare Celebrates 20 Years of Keeping Seniors Healthy and Living Independently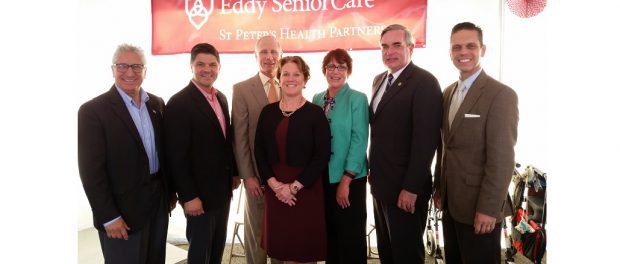 Congratulations to Eddy SeniorCare which today celebrated two decades of service keeping nursing home eligible seniors in the Schenectady area healthy and living independently in their own homes and communities.
Launched in 1996, Eddy SeniorCare is an integrated medical and long-term health management program that helps frail, elderly seniors who would otherwise be in a nursing home to successfully manage their conditions, improve their quality of life, and continue living safely in their own homes and communities where they prefer. The program has served more than 1,000 seniors since opening.
Eddy SeniorCare is a PACE (Program of All-Inclusive Care for the Elderly) center modeled after a nationally established service called On Lok, developed in San Francisco, California in 1973. With the success of On Lok – Chinese for "peaceful, happy abode" – PACE programs have replicated across the country. Today, there are 116 PACE sites in 32 states. Eddy SeniorCare opened as only the third such program to operate in New York state, and remains the only such model serving seniors in the greater Capital Region.
"The PACE model lifts all of the services found in a nursing home and brings them to the community setting," said Bernadette Hallam, executive director of Eddy SeniorCare. "It is the most comprehensive model of care designed to support seniors so they may age at home. Eddy SeniorCare manages all the health care needs of its participants, including extensive community based home care services, home modifications, medication management, hospital care, and more. The beauty of the PACE model is how it has the ability to modify services quickly as the individual's health needs change."
Through Eddy SeniorCare, an interdisciplinary care team works with each participant and their family to customize the individual's care plan. This includes a physician, nurse, social worker, therapists, pharmacists, day center staff, dietitians, home care and transportation personnel – all professionals working together to manage each participant's medical conditions, and supporting seniors so they can continue living safely in their own homes.
Services include day health care, physician and nursing care, medication management, rehabilitation, medical specialties, social work, personal care, meals, transportation, recreation, and more. A doctor and nurse are available 24/7 to address concerns.
Eddy SeniorCare serves seniors 55 years of age or older who live within the service area of Schenectady County and parts of Albany County. Individuals must qualify for nursing home-level care, long-term care services for more than 120 days, and be able to be maintained in the community safely at the time of enrollment.
There are no deductibles or copayments for any service or care approved by Eddy SeniorCare. Services under the program are paid through a capitated reimbursement arrangement through Medicaid, Medicare A and/or B, or through private pay fee equal to the Medicaid reimbursement rate. The unique funding arrangement allows the program to target each participant's care needs when they need it most, and the flexibility to respond quickly as the individual's needs change.
For more information about Eddy SeniorCare services, please call 518-382-3290.