Former Patient Prepares Thanksgiving Meal for the NICU Staff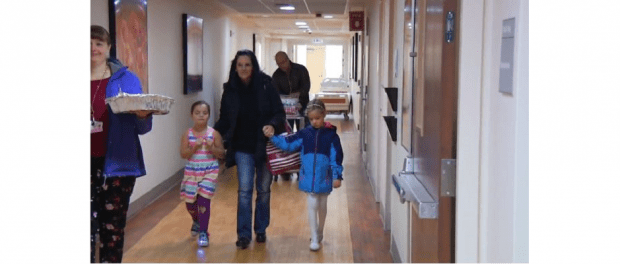 The Neonatal Intensive Care Unit (NICU) at St. Peter's Hospital holds a special place in Amy Froehlich's heart. Nearly 7 years ago, while 32 weeks pregnant, she was rushed to St. Peter's Hospital after an ultrasound revealed one of her twins was showing signs of distress.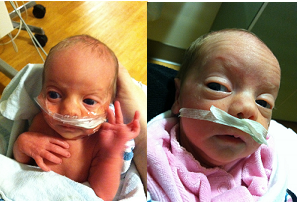 After undergoing an emergency C-section, Amy delivered twin girls on November 17, which also happened to be World Prematurity Day. Her girls, Samantha and Leah, spent their first Thanksgiving in the NICU, and so did Amy and her now ex-husband, Ryan Marshall.
Both medical professionals, Amy and Ryan, know what it is like to work in the emergency room and be away from family on holidays. She is a registered nurse at St. Peter's Hospital. He is a nurse practitioner at Chatham Internal Medicine, a practice of St. Peter's Health Partners Medical Associates.
"They're giving up their time to be working and missing their families," Amy said. "Our appreciation is so immense."
That is why, just one week after giving birth, Amy and Ryan decided to show just how grateful they were to the NICU staff.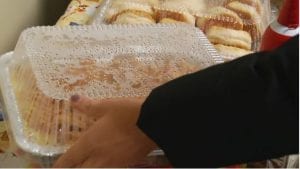 They prepared a fresh, hot Thanksgiving meal for the employees as a way to say 'thank you.' They have carried on the tradition every year, and now their daughters participate, too.
This year, they were up at dawn on Thanksgiving, preparing the feast for the staff.
"I have greatly appreciated the very kind gesture that they make each year by providing a Thanksgiving dinner for the staff in the NICU," said Donnamarie Martocci, a registered nurse who works in the St. Peter's Hospital NICU. "Their expression of gratitude on Thanksgiving Day is very meaningful. I think it is a beautiful reminder to us NICU nurses that the work we do on a daily basis has lifelong impacts on both the patient's and their families."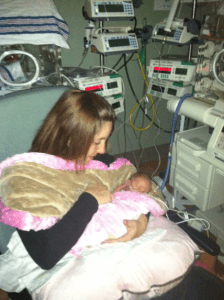 "The NICU became our home during a difficult time," Amy said. "We are so incredibly grateful. So, to be able to take that little piece of home and give it to them really means the world."
November is Prematurity Awareness Month.
About St. Peter's Hospital Birthing Center
St. Peter's Hospital NICU has received the silver-level, Beacon Award for Excellence from the American Association of Critical-Care Nurses (AACN).
St. Peter's Hospital is also the recipient of the 2018 Women's Choice Award as one of America's Best Hospitals for obstetrics for the fourth consecutive year, and in 2017, was recognized as an international "Baby-Friendly" hospital, with St. Peter's being the first in the Capital Region to earn the designation.
For information on delivering a baby at St. Peter's Hospital, as well as information on parenting classes, infant care, breastfeeding, the NICU, or placental donation, please call 518-525-1388 or visit http://www.sphcs.org/WomensHealth.