Samaritan & St. Mary's Hospitals Launch Program To Improve Patient Care Experience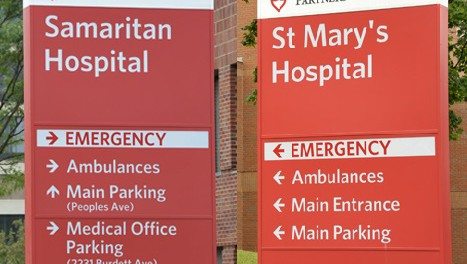 Samaritan and St. Mary's hospitals have launched an innovative new program aimed at helping improve quality and safety for patients, and enhancing the hospital experience for both patients and their families.
Leaders of St. Peter's Health Partners' Acute Care Troy Division launched the "Patient and Family Advisory Council" at its two Troy hospitals in April, bringing together a group of patients, family members, staff liaisons, and hospital leadership for thoughtful discussions and valuable feedback on the customer care experience. Observations and suggestions from the group are incorporated into hospital operations to help improve care for patients at the hospitals and their families.
"Part of our mission has always been to provide the highest quality care possible to our patients, and we continuously strive to improve the patient experience in every way we can," said Norman E. Dascher, Jr., chief executive officer of Samaritan and St. Mary's hospitals, and executive vice president of Acute Care Troy at SPHP.
"This effort specifically recognizes that while we are caring for our patients, we are also caring for their family members," Dascher said. "So we are committed to identifying ways to provide not only the highest quality care, but to deliver the best patient experience for both patients and their family members. It is how we would want our loved ones and members of our own families to be cared for in that situation."
A Wall Street Journal article published in November 2015 highlighted a recent survey from the nonprofit Health Research and Educational Trust which found that hospitals with patient and family advisory councils had a higher percentage of patients rating the hospital a nine or 10 out of a possible score of 10 on patient satisfaction surveys than those hospitals without such councils.
Since Samaritan and St. Mary's hospitals launched the Patient and Family Advisory Council, members of the group have met monthly to share stories, insights, and experiences firsthand, and brainstorm on ideas for improvement or solutions to address any issues observed.
"Step by step, we are achieving the goals of our multi-phased Troy Master Facilities Plan. We are keeping our promises to improve our infrastructure, and innovate ways to help transform health care for the future of Troy, Rensselaer County, and the surrounding communities," said Scarlet Clement, vice president of administration and specialty services for Acute Care Troy, who serves on the group's steering committee.
"The Patient and Family Advisory Council is yet another way we can partner with the community and those who we serve to transform the patient and family care experience, which we believe is a vital part of what we do as care providers," Clement said. "We are actively seeking feedback from our council members, which include not only patients and families that have had positive experiences at our hospitals, but also those who might have had a difficult time and can offer thoughtful feedback and suggestions on how we can improve something."
Since the launch of the council, Samaritan and St. Mary's have explored a wide range of ideas for improvement. Priorities include initiatives to cultivate the hospitals' connection with patients, enhance communications with patients and amongst the caregiver team, improve pain management efforts, and simplify the discharge process.
Council members also recently toured SPHP's new $10 million parking garage at the Samaritan Hospital campus, and conducted a walk-through to identify ways to address way-finding issues that were occurring amidst the construction and relocation changes on campus. As a result, officials were able to make a number of environmental and operational changes based on the feedback, including adding signage, creating an updated map of the campus, and building a temporary walking bridge which connects the parking garage to the main hospital building.
"The feedback, ideas and suggestions from our members have been invaluable," Dascher said. "The council is committed to helping us make significant changes to improve the care experience for current and future patients and their families. Ultimately, our goal is to enhance every aspect of the patient and family experience, and increase our sensitivity to the diversity of our patients."
"This is not only our commitment and the right thing to do, it is an important part of the mission and vision of our hospitals. We are seeing improvements already, and there is no doubt going forward that it will greatly enhance the experiences of our patients, families, and staff for the better," Dascher said.