SPHP Seeks NYSDOH Approval of $99 Million Construction and Renovations at Troy's Samaritan and St. Mary's Hospitals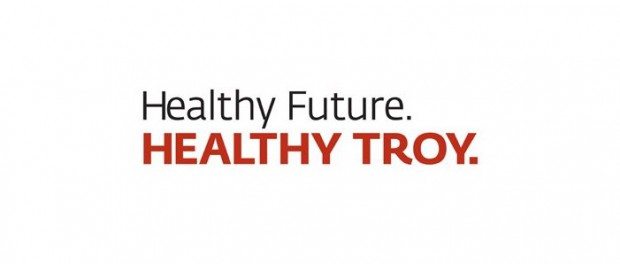 St. Peter's Health Partners (SPHP) has filed Certificates of Need (CONs) with the New York State Department of Health (NYSDOH) seeking review and authorization for $99 million in new construction and renovation projects at Troy's Samaritan and St. Mary's hospitals.
The official filing of the CONs last week is the first major step in obtaining regulatory approval for SPHP's Troy Master Facility Plan (MFP) – first announced in November 2012. When the initial phase of the MFP is completed in late 2017, it will include construction, renovation and modernization of inpatient facilities on Samaritan's campus, and outpatient and other programs on the St. Mary's campus.
While most of the project remains the same as previously announced, the CONs seek approval for a plan that revises the project's scope and timing. Previously, plans called for a $150 million, three-phase project over 13 years – including $67 million in the initial phase. The revised project filed with the NYSDOH will initially invest $99 million in the next five years with future project phases to be determined at a later point.
The revised project will also accelerate – by six years – the consolidation of inpatient care in Troy to a single location – Samaritan Hospital. To address the rapidly changing health care environment and more quickly modernize inpatient facilities in Troy, by the end of 2017 Samaritan Hospital will serve as the single facility for medical/surgical and behavioral health inpatient care in the Troy area. St. Mary's Hospital will continue to provide inpatient services until that time and transition to become an ambulatory care campus, providing important outpatient services to the community.
Among the major highlights of the project filed with NYSDOH last week: construction of a new patient pavilion at Samaritan Hospital including a new, expanded emergency department, and intensive care, progressive care, and medical/surgical beds; other infrastructure improvements; and a new parking garage.
Overall, the plan will result in a reduction of inpatient beds in Troy by 2018. Troy currently has 400 licensed/certified inpatient beds. The two Troy hospitals had a combined average daily census of 219 patients in 2012. This average does not address, however, daily and seasonal fluctuations. By 2018, the facilities would be operating 257 beds.The additional beds (over the average daily census) will allow for flexibility in medical/surgical beds (an increase from 168 to 194 beds) – allowing for better control over surge capacity.
With the new configuration, 74 percent of medical/surgical beds will be in private rooms (instead of the current 25 percent). In addition to patient preference, research indicates that higher percentages of private rooms promote faster healing, lower infection rates, and result in fewer medical errors.
To accommodate the accelerated inpatient consolidation program and reduce reliance on current, aging facilities, the new patient pavilion at Samaritan Hospital will have five stories above ground – one more than originally planned. The new pavilion would be located adjacent to the current Lally Pavilion. Also, after completion of the new emergency department (ED) at Samaritan, the current Samaritan ED will be renovated into an expanded Endoscopy Center with seven procedure rooms. The current endoscopy facilities at St. Mary's Hospital will also remain to serve Troy residents.
The new ED will have separate areas for walk-in patients and those who arrive by ambulance. It will be designed to maximize comfort for all patients, especially the elderly, and will have an internal medical imaging area.
The new parking garage at Samaritan Hospital will be built to hold 550 cars. The parking garage will be built in an existing ground-level parking lot for employees and visitors. The $9 million, 550-car parking deck received $1.25 million in grant funding from New York State Governor Andrew Cuomo and the Capital Region Economic Development Council in December 2013.
Also part of the project, as originally planned, the Samaritan Hospital School of Nursing and outpatient medical oncology/chemotherapy services will be relocated from Samaritan to the St. Mary's Hospital campus. Medical oncology at St. Mary's will be designed to consolidate infusion services in patient centered accommodations, including a satellite pharmacy for chemotherapy to minimize patient wait times for treatment.
Outpatient physical therapy services for both Troy hospitals will be consolidated at the St. Mary's Massry Center located nearby on Hoosick Street. Samaritan's current outpatient physical therapy space will be renovated for a new inpatient pharmacy.
The Troy MFP will fulfill a key tenet of the October 2011 merger that created SPHP – improvements to the health care facilities and programs in Troy. St. Peter's Health Partners – the region's largest health system – was created by the merger of St. Peter's Health Care Services, Northeast Health and Seton Health. It has a $1.3 billion annual budget and is also the region's largest private employer with more than 12,500 employees in more than 170 locations in seven counties of northeastern New York.
Many projects under the SPHP Troy MFP will require additional approvals by federal, state or local government and/or regulatory agencies, and will be dependent on securing capital financing.
One of the Largest Private-Sector Investments in Troy and Rensselaer County History
Overall, the project represents one of the largest private-sector investments in Troy and Rensselaer County history. It will be funded through equity, capital financing, and philanthropy. In March 2013, the entire SPHP Troy MFP received a $10 million donation from a Troy resident who has chosen to remain anonymous at this time. It is anticipated when the new pavilion at Samaritan Hospital is completed and dedicated, that it will be named in honor of the donor.
"One of the key goals of the merger was to create a long-term, sustainable acute care presence in Troy, to position our Troy hospitals to provide the best care possible for patients in this community while acknowledging the sweeping changes of health reform," said Norman E. Dascher, Jr., FACHE, vice president of Acute Care Troy, SPHP, and chief executive officer of Samaritan and St. Mary's hospitals. "This has always been a part of the historical mission of both Northeast Health and Seton Health, and it was a commitment made by St. Peter's Health Partners at the time of the merger."
Dascher said since planning began, the SPHP Troy MFP was designed to be practical, forward thinking and flexible, making possible adjustments as health reform and market forces change health care needs in Troy and the region. "The acceleration of the timeline for consolidation of inpatient services in Troy is an example of adjustments that needed to be made," Dascher said.
"Multiple institutional and state studies have suggested that Troy cannot sustain two full-service community hospitals for the long term. In addition, hospitals and other health facilities across the country are undergoing significant changes as a result of federal health care reform and continued reductions in state and federal reimbursement. We wanted to be proactive in creating a facilities plan that is responsive to the changing health care environment and that will meet the current and future needs of the Troy area communities," said Dascher.
Dascher said a recent five-year forecast of hospital usage, reimbursement and regulatory changes predicted that without consolidation of inpatient services in Troy, the two Troy hospitals combined would lose in excess of $14 million per year by 2018.
Dascher noted the goal of the consolidation of the inpatient facilities is not to reduce jobs. "We will still need physicians, nurses, technicians and other employees to care for those in inpatient beds being moved to Samaritan Hospital. Also, the expected expansion of outpatient services at both hospitals will continue to require significant staffing," Dascher said. "Employees may be performing different tasks in different locations, but we expect that those who wish to remain will have positions."
Start of Construction Planned for September 2014
It is expected that review and approval of the CONs will take several months. While this process is underway, other planning, regulatory, and bidding procedures must be completed before any construction can begin. This includes discussions with city and county officials, as well as hospital neighbors. It is hoped that construction of the 550-car parking deck can begin in September 2014 and be completed in June 2015.
To facilitate construction, it is anticipated that the Samaritan Hospital School of Nursing will move from Samaritan to the St. Mary's Hospital campus by the end of 2014. The Samaritan pharmacy will be also relocated to the first floor of Samaritan Hospital in February 2015. Outpatient medical oncology/chemotherapy services will relocate to the St. Mary's Hospital campus in March 2015.
Construction on the new pavilion is scheduled to begin in May 2015, be completed two years later in May 2017, and open in July 2017. At that point, renovation of the current ED for the new Endoscopy Center can begin and be completed in December 2017.
Upon completion of the pavilion, Samaritan Hospital will become the sole provider of inpatient care in Troy. At that point, the St. Mary's Hospital campus will serve as an advanced ambulatory campus providing vital services to the community including ED/urgent care, medical oncology/chemotherapy, outpatient surgery, endoscopy, medical imaging, women's health center, sleep lab, and laboratory services. It will also offer wound care, cardiac rehabilitation, a podiatry clinic, anti-coagulation clinic, diabetes education, outpatient pharmacy, cardiac and pulmonary testing and pulmonary rehabilitation, and palliative care. The campus will also continue to house primary care physician offices.
Inpatient psychiatric and behavioral health beds, including geriatric psychiatric beds, will remain at Samaritan. The current addiction detox beds at St. Mary's Hospital will convert to outpatient. Remaining inpatient alcohol rehabilitation will be relocated to St. Peter's Addiction Recovery Center (SPARC) in Guilderland.
Follow-up on Earlier System Design Study; A Rapidly Changing Health System
The SPHP Troy MFP builds on a system design study released in 2010 during the process of merging the three health systems. That study outlined how the system's acute care hospitals could be reconfigured or consolidated to provide greater access, efficiency, and fiscal sustainability. The 2010 system design study called for establishing Samaritan Hospital as the sole inpatient facility in Troy with its large bed capacity and larger operating room suites. Samaritan's larger, more flexible site plan and ongoing capital investment had also made the facility more practical for future development. St. Mary's Hospital would become an outpatient services facility over an extended period of time.
Both the 2010 study and the SPHP Troy MFP agree that continuing with two full-service community hospitals is not sustainable. The Troy hospitals currently run at approximately 55 percent of licensed bed capacity, and inpatient volume is expected to decline further related to health reform and other national trends. Inpatient volume will not be adequate to sustain two aging hospital facilities over the long term. Further, neither of the emergency departments or intensive care units in Troy is adequate to meet current acute care needs.
The 2010 study was performed by Deloitte, a national health care consulting firm, in conjunction with SPHP senior leadership and the Board of Trustees. It took a broad, pre-merger look at market consolidation potentials in preparation for review of the merger by the Federal Trade Commission (FTC).
In preparation of the SPHP Troy MFP, in 2012 SPHP took a closer look at facilities and program needs. Conducted by FreemanWhite – a renowned architectural firm – it included the review of engineering, mechanical, HVAC, plumbing and architectural issues in the facilities to help focus the planning efforts.
The 2012 study suggested that St. Mary's Hospital remain an inpatient facility, including a full emergency department, for 10 years – while Samaritan Hospital prepared to be the Troy inpatient campus and St. Mary's Hospital transitioned to an advanced ambulatory care campus.
In 2013, SPHP and its parent corporation – CHE Trinity Health – underwent a more extensive strategic repositioning process that looked at all aspects of local health care markets, expected growth, and cuts in certain programs and services, changes in hospital utilization and reimbursement, as well as changing governmental regulations and processes related to health care reform.
Highlighting the rapidity of change in health care, the 2013 study recommended that the consolidation of health care in Troy be accelerated to occur in late 2017.
Addressing Several Strategic Priorities
The SPHP Troy MFP addresses several strategic priorities for St. Peter's Health Partners' acute care
services in Troy:
preserving the mission of care to the Troy community;
reducing the duplication of services between Samaritan Hospital and St. Mary's Hospital;
growing outpatient services in anticipation of health reform that will focus on expanded primary and ambulatory care;
better management of operating costs.
"We know that it is not possible to sustain two community hospitals in Troy, especially within blocks of each other, and it is not an efficient use of our resources," Dascher said. "This master facilities plan will enable us to reallocate our resources, reduce the duplication of services, and maximize efficiency which will serve to improve quality, lower costs, and improve the patient experience for all residents in our community."
Click here to see artist's renderings of the Samaritan Hospital Pavilion.