SPHP Partners with City of Albany and Others in Fight to Reduce Poverty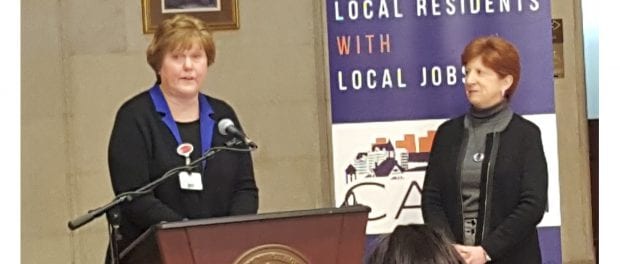 Judy Gray, chief human resources officer at St. Peter's Health Partners, participated in a March 7 press conference at Albany's City Hall announcing the third phase of the City of Albany's Poverty Reduction Initiative (CAPRI).
CAPRI is part of Governor Andrew Cuomo's Empire State Poverty Reduction Initiative, designed to combat poverty and reduce inequality throughout New York state.
As part of the groundbreaking effort, St. Peter's Health Partners (SPHP) is partnering with the City of Albany, Albany Medical Center, CARES of NY, Schenectady Works/City Mission, and the Capital District Child Care Council, to help local residents find and keep employment. This will involve improving transportation options and expanding access to quality childcare, both of which are often barriers to stable employment.
"By supporting CAPRI, we are making a commitment to provide the necessary resources and opportunities to unemployed and underemployed members of our community," Gray said. "We will get them in our jobs pipeline, provide them with an extra level of support before and after they join our staff, and help fill critical vacancies throughout our organization."
The third phase of the mission will run from March 2019 through February 2020. The aim is to recruit between 75 to 100 unemployed and underemployed Albany residents and provide them pre-employment training. It will also include providing 200 residents with supplemental workplace services in an effort to provide stable employment.