St. Peter's Health Partners Board Member Recognized by Statewide Aging Association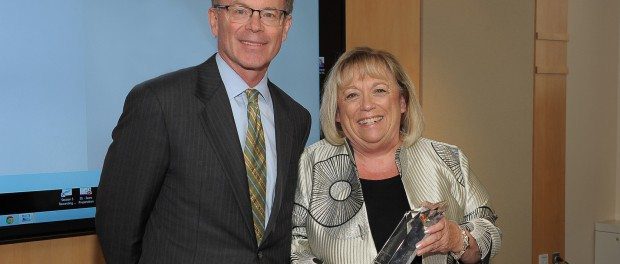 Congratulations to Beverly Karpiak, a member of the board of directors of St. Peter's Health Partners, who was recently presented the Trustee of the Year Award by Jim Clyne, president and CEO of LeadingAge NY.  Karpiak was recognized for her significant contributions as a board member – especially her commitment to ensuring compassionate care for residents at all SPHP Continuing Care affiliates, including The Eddy's seven skilled nursing homes.
Karpiak, who also serves as chair of the Safety and Quality Committee for SPHP, has a long history of dedication and service in the health  care field, particularly elder care. She first joined the Board of Trustees for Seton Health's Schuyler Ridge Residential Health Care Facility in Clifton Park in 1999, later becoming co-vice chair before assuming chair in 2007. Under her leadership, Schuyler Ridge, also a SPHP affiliate, became known for quality and is consistently on the list of Best Nursing Homes in the country.