St. Peter's Hospital Receives Magnet Recognition for Fourth Consecutive Time
St. Peter's Hospital, an affiliate of St. Peter's Health Partners (SPHP), has been granted recognition as a Magnet®-designated organization for the fourth consecutive time by the American Nurses Credentialing Center® (ANCC) Magnet Recognition Program®.
St. Peter's Hospital is one of less than one percent of hospitals in the United States to achieve four consecutive Magnet designations.
The prestigious Magnet designation recognizes excellence in nursing services, and represents sustained and demonstrated patient care outcomes that are a result of superior nursing and interdisciplinary care. St. Peter's Hospital is the only hospital in Albany, Rensselaer, or Schenectady counties, and one of only 37 in New York state, designated by Magnet.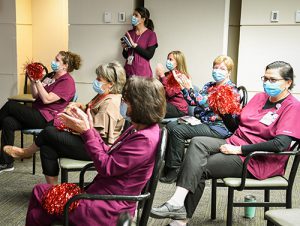 Magnet recognition has become the gold standard for nursing excellence and is taken into consideration when the public judges health care organizations. In fact, U.S. News & World Report's annual showcase of "America's Best Hospitals" includes Magnet recognition in its ranking criteria for the quality of inpatient care.
St. Peter's Hospital was first designated as a Magnet organization in 2005, and then again in 2009 and 2015.
"We are tremendously pleased and very proud to receive Magnet designation for the fourth consecutive time," said Christopher Jordan, MHA, RN, NEA-BC, CPHQ, SPHP's Chief Nursing Officer – Acute Care and Vice President for Patient Care Services. "Magnet designation is the ultimate distinction for high-quality nursing and a leading source of nursing best practices worldwide. Receiving this distinction for the fourth time is an important milestone for us, and reinforces what we hear from our patients every day: the nurses at St. Peter's Hospital, especially during these most trying and unprecedented times, provide exceptional and compassionate care."
"On behalf of everyone at St. Peter's Hospital and SPHP, we applaud the efforts of our nurses and their success in achieving Magnet designation for the fourth consecutive time," said Michael Finegan, President of Acute Care for SPHP. "While much has changed in healthcare over the past 15 months during the pandemic, the bravery of our health care providers, particularly our nurses, has been a comforting constant. As we start to emerge from the shadow of those difficult days, this recognition feels even more poignant, and I am extremely grateful and proud of the entire team that helped us to get here."
ANCC informed St. Peter's Hospital of the news this morning during a conference call. On the call, Jeanette Ives Erickson, DNP, RN, NEA-BC, FAAN, the Chair of the Commission for the Magnet Recognition Program®, praised the work of St. Peter's Hospital and its nurses. Specifically, she applauded the role of nurses in achieving three exemplars identified during the appraiser process: outstanding outcomes in patient care thanks to SPHP's neonatal abstinence syndrome program; and outperforming national benchmarks in the areas of central line associated bloodstream infections and catheter associated urinary tract infections.
"This is a great day to celebrate all of the wonderful things that you have been doing on behalf of patients, families, the community that you serve, as well as the wonderful work that you have been doing protecting each other during these very difficult times," Erickson said during the call.
Magnet re-designation is a vigorous process and St. Peter's earned its fourth designation following a rigorous review of the hospital and its various programs. The document submitted to support St. Peter's Hospital's fourth designation totaled more than 1,500 pages, and was prepared over a two-year span by more than 100 writers and contributors.
"I've been a nurse here for 42 years. I can't even begin to tell you how proud I am to work here, to work with these wonderful nurses, who have – in the most difficult of times – been unwavering, using Magnet as their north star to guide practice throughout the pandemic," said Carole Wickham, DNS, RN, CNS-BC, SPHP's Director of Professional Practice and Nursing Research. Wickham, who is the Magnet Program Director, went on to note, "Magnet advances the profession of nursing and nursing practice. It is the voice of the nurse, highlighting the power of nursing and how integral we are to patient care."
Following the documentation review, Magnet Appraisers visited St. Peter's Hospital from April 20-22 of this year to validate, clarify and amplify the information submitted in the application document. A unanimous vote of the Magnet Commission was required to receive the re-designation.
About ANCC
The mission of the American Nurses Credentialing Center (ANCC), a subsidiary of the American Nurses Association (ANA), is to promote excellence in nursing and health care globally through credentialing programs. ANCC's internationally renowned credentialing programs certify and recognize individual nurses in specialty practice areas. ANCC recognizes healthcare organizations that promote nursing excellence and quality patient outcomes while providing safe, positive work environments. In addition, ANCC accredits healthcare organizations that provide and approve continuing nursing education.
About Magnet Recognition Program
ANCC's Magnet Recognition Program is the most prestigious distinction a healthcare organization can receive for nursing excellence and quality patient outcomes. Organizations that achieve Magnet recognition are part of an esteemed group that demonstrates superior nursing practices and outcomes.
About St. Peter's Hospital
St. Peter's Hospital, an affiliate of St. Peter's Health Partners, is the largest Catholic acute care community hospital in northeastern New York state. Located in Albany, New York, the hospital was founded in 1869 by the Religious Sisters of Mercy. St. Peter's offers a comprehensive range of inpatient and outpatient services and diverse outreach programs in the areas of women's and children's services, neonatal intensive care, rehabilitation, surgery, ambulatory care, outpatient medical imaging, and care for the elderly. For more information, please visit www.sphp.com.
About St. Peter's Health Partners
With 11,000 employees in more than 170 locations, St. Peter's Health Partners is one of the Capital Region's largest and most comprehensive not-for-profit integrated health care networks, and provides high-quality, compassionate, and sophisticated care to thousands of people every day. St. Peter's Health Partners is a member of Trinity Health, one of the nation's largest Catholic health systems. For more information, please visit www.SPHP.com. To view a list of Trinity Health's Magnet-designated hospitals nationwide, please visit https://www.trinity-health.org/careers/nursing-careers/key-foundational-priorities-of-trinity-health-nurses.