American Red Cross thanks SPHP Workers with Cookies, Coffee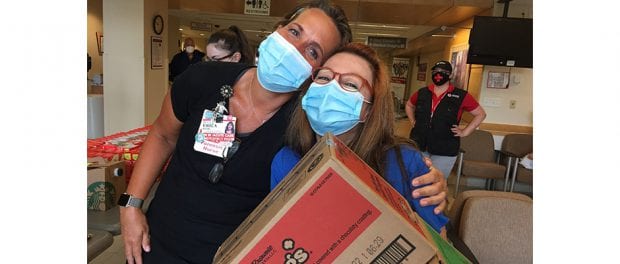 The American Red Cross Eastern New York was at Samaritan Hospital – Albany Memorial Campus on Wednesday, June 24, handing out boxes of Girl Scout cookies, coffee and water to staff to say "thank you!" to our front-line heroes who have been providing care and supporting the community throughout the COVID-19 pandemic.
The event was held in conjunction with the Red Cross' unveiling of their newest, next-generation emergency response vehicle. Colleagues and local dignitaries gathered outside of Albany Memorial's main entrance for the announcement including Michael Finegan, president of Acute Care; Assemblymember John T. McDonald III; Gary H. Striar, Regional CEO, American Red Cross Eastern New York; and Kevin Coffey, Incoming Regional CEO, American Red Cross Eastern New York.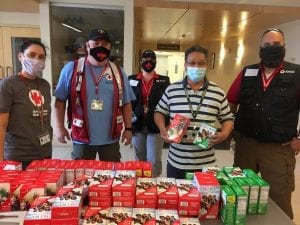 "My thanks to the Red Cross for their generosity and support of our front-line health care workers," said Finegan. "It has always been the mission of St. Peter's to be a compassionate and healing presence in our community, and it is one that I know the Red Cross shares. A dedication to community health is the cornerstone of what we do; it is a mutual dedication to helping communities when they are at their most vulnerable and in need."
Thanks to the abundance of cookies the Red Cross shared that morning, deliveries were also made to Samaritan Hospital, Samaritan Hospital – St. Mary's Campus, and St. Peter's Hospital for staff at those facilities to enjoy. The gesture is just one of many being made by organizations and individuals throughout the community in support of SPHP. These acts of kindness help lift spirits in a time a great stress and anxiety, and reinforce our mission to serve as a compassionate and transforming healing presence in our communities. Thank you, everyone!