LiveSmart: Celebrating Safely this Holiday Season – Think Small, Virtual Gatherings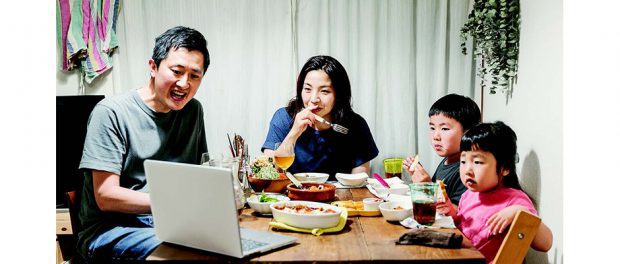 The holiday season, with its tradition of bringing family and friends together, truly gets underway with the arrival of Thanksgiving. However, as we plan for a variety of upcoming winter celebrations, how do we keep ourselves and our loved ones safe given the continuing COVID-19 pandemic?
Celebrating virtually or only with members of your own household poses the lowest risk for spread. However, if you are organizing a more traditional gathering, or planning to attend one, please be mindful of the higher risk of virus spread based on the type and size of the event. And keep in mind that traveling poses an even greater increased risk of getting and spreading COVID-19.
Hosting a Holiday Gathering?
If you're planning to host a holiday gathering, you should:
Remind guests to stay home if they are sick – Invited guests should stay home if they have been exposed to COVID-19 in the last 14 days or are showing symptoms.
Limit the number of guests – Gatherings with more people pose a higher risk than gatherings with fewer people. Recent guidance from New York Gov. Andrew Cuomo recommended that indoor gatherings at private residences should be limited to a maximum of 10 people.
Encourage social distancing – Host your gathering outdoors, when possible. If this is not feasible, make sure the room or space is well-ventilated. Arrange tables and chairs to allow for social distancing.
Wear masks – Wear masks properly when indoors and less than 6 feet apart from people. Consider providing masks for guests or asking them to bring their own.
Clean hands often – Wash your hands for at least 20 seconds when entering and exiting social gatherings. Make sure there is adequate soap or hand sanitizer containing at least 60 percent alcohol available.
Limit the number of people handling or serving food – Encourage guests to bring their own food and drinks. If serving any food, consider identifying one person to serve all food so that multiple people are not handling the serving utensils.
Limit contact with commonly touched surfaces or shared items – Use touchless garbage cans and clean and disinfect commonly touched surfaces and any shared items between use.
Going to a Holiday Gathering?
If you are planning to attend a holiday gathering, you should:
Prepare before you go – Stay home if you are not feeling well, have been diagnosed, are awaiting test results or have been exposed to someone with COVID-19. Bring extra supplies (e.g., hand sanitizer, masks, etc.) to help you and others stay healthy.
Use social distancing and limit your visit – Maintain a distance of at least 6 feet or more from people who don't live in your household. Consider only staying for a short period of time, as gatherings that last longer pose more risk than shorter gatherings.
Wear masks – Doing so minimizes the risk of transmitting the virus.
Limit contact with commonly touched surfaces or shared items – Avoid any self-serve food or drink options and wash your hands with soap and water for at least 20 seconds or use hand sanitizer immediately before eating food or after touching any common surfaces.
For more valuable holiday guidance to help you lower the risk of contracting and spreading COVID-19, visit St. Peter's Health Partners' holiday safety page HERE.