LiveSmart: Health Professions – Opportunities, Advancement, Flexibility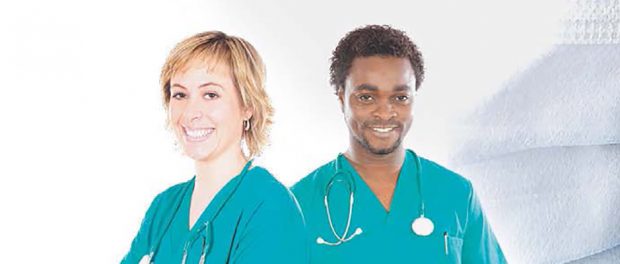 [This piece was written by members of the St. Peter's Human Resources recruitment team.]
If you're just starting out work or considering changing fields, a rewarding and challenging career in health care may be what you're seeking.
Not only do you get the satisfaction of helping people every day, the jobs provide excellent pay and benefits; flexible scheduling; a career path for advancement; and a chance to work in a high-tech environment with other dedicated professionals in a variety of settings.
Health care is one of the fastest-growing sectors of the economy, with the University at Albany's Center for Health Workforce Studies (CHWS) projecting employment in the health care sector to rise nearly 30 percent between 2010 and 2020.
The New York state Department of Labor estimates between now and 2022, there will be 290,000 new health care and social assistance jobs in New York state. Growth positions include registered and licensed practical nurses, home health aides, nursing aides, respiratory therapists, medical assistants, dietitians, and other related jobs.
While hospitals continue to employ the largest share of health sector workers in New York state, the CHWS projects that 63 percent of those positions will be in ambulatory settings (offices of health practitioners, home health, and other non-institutional settings).
The health care field provides numerous options to meet your goals and lifestyle. For example, if hands-on care isn't a personal passion, nurses can branch out into related jobs such as administration, research, teaching, and counseling.
If you don't want to commit the two years to earn a nursing degree, you can first take a course at St. Peter's Health Partners to become a certified nursing assistant, patient care technician or home health aide. If and when you want to advance your education, St. Peter's offers tuition assistance.
As for scheduling, health care offers a variety of flexible options. Persons with other family or school obligations may work evenings, nights or weekends.
From audiologist to ultrasonographer, St. Peter's offers an array of career possibilities in allied health professions including lab technician, medical technologist, radiation therapy, medical imaging, occupational or physical therapy, speech/language pathologist, and elder care.
In recognizing the crucial role allied health professionals play in the care of our patients, residents and clients, St. Peter's presents a professional culture, career support, medical resources, and the opportunities employees seek.
We encourage you to visit www.sphp.com/employment to view a list of job openings at St. Peter's Health Partners and take the next step in furthering your career.