LiveSmart: Holiday Break Survival Guide – Keep the Kids Happy & Healthy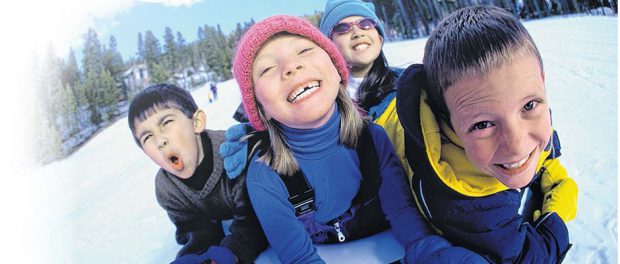 [This piece was written by Diane Tenenbaum, MD, of St. Peter's Children's Health Center.]
School's out! Well, not yet, but the traditional holiday break will soon be upon us. And as any parent who has lived through it will tell you, at some point the kids will either become screen zombies or unleash a pitiful wail of "I'm BORED!"
Yes, bored kids are a given during the school break, one that can threaten to turn you into a veritable Scrooge. Here are a few tips to help keep those kids occupied and happy.
Close to Home
Check community calendars for concerts and other special events at local libraries, colleges, museums, aquariums and planetariums. To make the day a success, think about your particular child's interests and attention span; check the hours of the location before you go; and consider inviting a friend to come along.
Road Trip
Ramble further afield and take a day trip to explore a nearby town, park or nature preserve you've never visited before.
Thoughtful Giving
Spend one day of the break asking your child to choose gently used toys, clothes, or shoes that he's outgrown and take them to an appropriate donation site.
Check Out the Library
Your local library is the perfect place to spend an afternoon. Add to the fun with a library scavenger hunt. Make up a list of questions that require your child to use different reference books. Make them fun – the batting average of her favorite baseball player, the world's largest roller coaster.
Lights, Camera, Action
Get creative and decorate old socks for a puppet show. Break out the smart phone or tablet and have them record their home theater production.
Here's Your Host…
Pull out board games you haven't played in a while. Designate a host and have them do their best Alex Trebek impression to describe the proceedings.
The Cook's In the Kitchen
Cook something together! Even small kids can help add ingredients to recipes, whether you are baking up a treat or planning out dinner. And simple, classic kid's fare, like frozen chocolate-covered bananas or English muffin pizzas, is always a hit.
Get Those Couch Potatoes Moving
Most important of all – make sure they spend some time being active. Go for a walk or to the park. Toss a football around the yard. If there's snow on the ground, declare a snow-shoveling contest and then make a snowman. Or combine activities like skating on the Empire State Plaza's outdoor rink, followed by a trip to the NYS Museum!
Whatever you do, make sure you get them outside for some sunlight and fresh air – they'll be back indoors at school before you know it!
St. Peter's Children's Health Center (1092 Madison Avenue, Albany – 525-2445) offers a complete range of services for children from newborns to age 18. Services include well-child routine care, sick child exams, physicals, immunizations, health maintenance and education, and access to hospital services and referrals to specialists.