St. Peter's Health Partners Mourns the Passing of Heinrich Medicus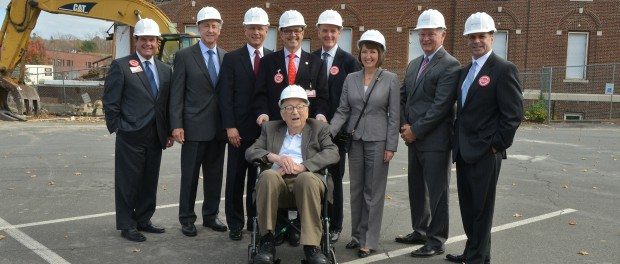 Beloved philanthropist and former Rensselaer Polytechnic Institute professor Heinrich A. Medicus, for whom the Heinrich Medicus Pavilion, currently under construction on the Samaritan Hospital campus in Troy, is named, passed away on Sunday, February 28. He was 98.
Below is a statement from James K. Reed, M.D., president and chief executive officer of St. Peter's Health Partners (SPHP), regarding his passing:
Heinrich Medicus was an extraordinary individual, and I loved talking to him. He was as refined as he was funny. He was fiercely intelligent, and had a very dry wit. He had a unique perspective, and would ask questions that were extremely perceptive and would often make me question my own positions and opinions.

Heinrich's philanthropy is making a very real difference in Troy and its surrounding communities. He had a sincere interest in health care, and shared our passion and vision for improving the care of our community. He wanted to leave a mark, help his community, and help the people who had provided care for him. In regards to his generous $10 million gift, Heinrich was not a hands-off kind of guy. He would tell me, 'I'm keeping an eye on you.' He was very involved, and wanted updates on the progression of our Master Facilities Plan. He wanted to see plans, blueprints, marketing strategy, and more.

Heinrich was gentle. I never heard him criticize someone. He would certainly make his perspective known, and get his point across, but he always did it with a chuckle. He had an ability to relate to people, and was always very appreciative of anything anyone did for him. He never took anything or anyone for granted.

I will miss our dinners together, our celebrations of milestones, and our long and memorable discussions. I am going to miss him dearly.

James K. Reed, M.D.
President and CEO, St. Peter's Health Partners
A resident of Beechwood, The Eddy's independent senior living community in Troy, Medicus in 2013 anonymously donated $10 million to SPHP to help advance the health system's $99 million Troy Master Facilities Plan (MFP). The donation represented the largest individual gift ever bestowed upon a health care institution in the history of Troy and Rensselaer County.
A year later, in 2014, Medicus' identity was revealed at the groundbreaking for the MFP, a strategic redevelopment project aimed at transforming the face of health care in Troy, Rensselaer County and the surrounding communities.
"Donating makes you reduce a bit of your assets but makes you wealthy in your soul," Medicus said at the time. "I hope that others feel the same pride as I do to help create a place that brings health to many thousands in our region. I hope they see that it is worthwhile to support Samaritan and St. Mary's hospitals."
The centerpiece of the Troy MFP is a new five-story patient pavilion at Samaritan Hospitan. SPHP announced in 2015 the pavilion would be named the Heinrich Medicus Pavilion in honor of Medicus' generosity. The pavilion is expected to be completed later this year.
A Remarkable Life
Medicus was born in Zurich, Switzerland on Christmas Eve 1918 to an artist mother and philosopher father. His father, Fritz Medicus, had come from Germany to Switzerland before WWI. When the Nazis took over in Germany in 1933, he and his family resigned their German citizenship, becoming Swiss. Heinrich Medicus would become an American citizen when he settled in Troy later in his life.
Medicus studied physics at the Swiss Federal Institute of Technology, where Einstein and Roentgen had studied, completing his doctorate in physics in 1949. The following year, he came to the U.S. where he was a fellow at the University of California, Berkeley. He moved to Massachusetts Institute of Technology (MIT), completed his fellowship and was offered an instructorship.
In 1955, Rensselaer Polytechnic Institute (RPI) made Medicus an enticing offer. He made the Collar City his home and would spend the next 32 years as an RPI professor.
In 1978, Medicus and his siblings inherited a considerable fortune from their Swiss industrialist uncle, the brother of Medicus' mother. But, Medicus did not change his lifestyle after receiving the inheritance and as the stock market started its long assent, his wealth grew.
Over the years, Medicus became a donor and philanthropist quietly and slowly, giving some of his fortune away through gifts, always with great purpose. Both he and wife Hildegard had been patients at Samaritan Hospital and he appreciated Samaritan for being friendly, well-managed and up-to-date, with experienced doctors. So, the couple began giving considerable sums to Samaritan. In 2010, when Samaritan was in need of money to buy the daVinci robotic-assisted operating system, Medicus jumped at the chance.
Hildegard Medicus Cancer Center
In November 2016, SPHP announced it would name its Troy cancer centers at Samaritan and St. Mary's hospitals in memory of Medicus' late wife, Hildegard Medicus. The naming was in appreciation of Medicus' generosity in donating an additional $1.5 million gift to advance cancer services at SPHP.
The St. Mary's Cancer Treatment Center was renamed the St. Mary's Hospital Hildegard Medicus Cancer Center, and Samaritan Radiation Oncology was renamed the Samaritan Hospital Hildegard Medicus Cancer Center.
Medicus and Hildegard married in 1961 and had enjoyed nearly five decades together when Hildegard was diagnosed with kidney cancer in 2006. She died in 2008 at the age of 80.
Enduring Legacy
To read more about Medicus' inspiring philanthropy and his impact on transforming health care in Troy, see: