St. Peter's Hospital Honors Exceptional Nurse Torres Lewis with DAISY Award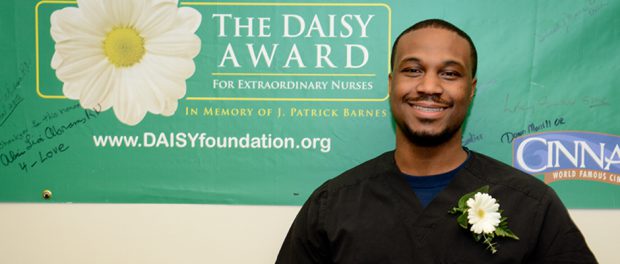 On October 14, the Recruitment and Retention Nursing Council at St. Peter's Hospital proudly hosted its quarterly DAISY Award Ceremony in recognition of extraordinary nurses. Congratulations to our winner, Torres Lewis (CVICU), and all of the nominees!
DAISY is an acronym for Diseases Attacking the Immune System. The family of Patrick Barnes, who died at age 33 of complications of Idiopathic Thrombocytopenic Purpura (ITP), created the DAISY Award to honor his memory and recognize the healing work of the nurses who had cared for him and continue to care for patients everywhere. The DAISY Award has been adopted by health care facilities across the United States, and is now part of the culture of St. Peter's Hospital.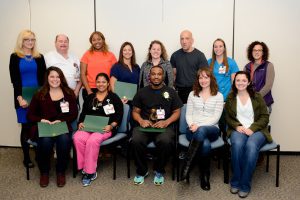 "Congratulations to Torres Lewis and all of our nurse nominees on the presentation of this DAISY Award," said Celeste DesChamps, RN, MS, NEA-BC, interim chief nursing officer at St. Peter's Hospital. "Torres exemplifies the core values of St. Peter's Hospital, providing skilled and compassionate care to one of our most vulnerable populations in the CVICU. His dedication to patient care is an excellent example of the positive feedback we get every day from patients and their families: nurses at St. Peter's Hospital provide exceptional care."
This DAISY Award ceremony was particularly special as we were joined by co-founders of The DAISY Foundation, Bonnie and Mark Barnes, FAANs, as well as some of their industry partners – Scott Filion, President of GetWellNetwork, and Karen Kirby, RN, MSN, NEA-BC, FACHE, from Kirby Bates Associates. We were also joined by the family of Torres Lewis, and the patient and family member who nominated him for the award.
There are more than 2,000 health care facilities in all 50 states and 14 other countries, committed to honoring nurses with The DAISY Award.