St. Peter's Hospital NICU Celebrates Halloween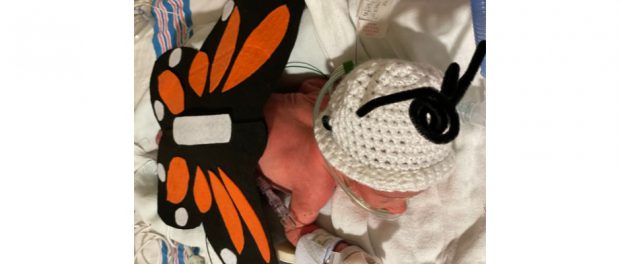 Having to spend a holiday in the Neonatal Intensive Care Unit (NICU) can be hard on families. That's why colleagues at St. Peter's Hospital organized their first ever Halloween "Costume Party" in hopes of spreading some cheer.
Mary Beth Halayko, a complimentary therapy practitioner at St. Peter's Health Partners, spearheaded the effort which involved NICU nurses and other colleagues from throughout the hospital.
Halayko assembled the costume-making kits and distributed them to the volunteers who then put them together. Their creativity, combined with some colorful felt and glue, led to an array of fun costumes — everything from butterflies and ladybugs to popcorn, french fries, and even sushi!
Jessica Wright, RN, who helped distribute the homemade costumes to the babies and their families, said the project didn't just bring joy to the families, it also created a memorable experience for staff.
"It was a fun bonding opportunity," said Wright. "It allowed us to get involved personally in the care of our patients and families and create some fun during what can be a time of hardship."
Wright and Halayko say they plan to make the Halloween "Costume Party" an annual tradition.
You can view a photo album of the event on the SPHP Facebook page.