SPHP and the City School District of Albany Celebrate Installation of New Playground at Giffen Memorial Elementary School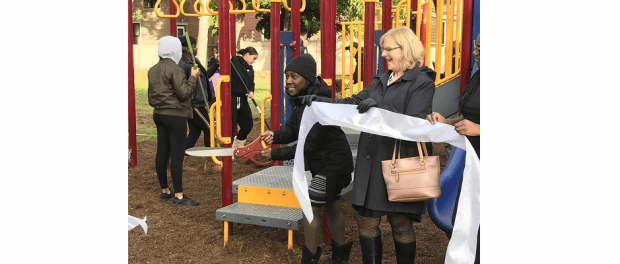 Instead of treats, kids in Albany's South End will have a new space to try out some fresh tricks on Halloween and beyond. A ribbon-cutting ceremony was held Friday, October 26 to celebrate the installation of a new playground at Giffen Memorial Elementary School. Volunteers and school personnel worked together to assemble the equipment over a two-day period.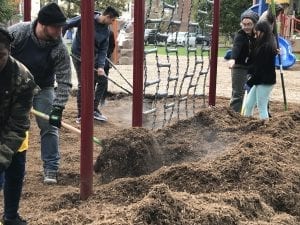 The new playground was funded by St. Peter's Health Partners (SPHP) and Trinity Health. SPHP Community Health Programs awarded a Creating Healthy Schools and Communities (CHSC) grant to support the project, and Trinity Health supported the playground through its Community Health & Well-Being Place-Based Investments initiative. CHSC has been working with the City School District of Albany for more than 10 years to support the implementation of school wellness policies, including the goal of obesity prevention.
"Studies have long shown that promoting physical activity at school improves academic outcomes, helping students not just physically, but socially and emotionally as well," said Erin Sinisgalli, director of SPHP Community Health Programs.
"As part of our mission, we are dedicated to serving as a transforming healing presence within our communities," said Kathy DeRosa, vice president of mission services at SPHP. "This investment in a new playground for Giffen Memorial Elementary School will benefit the students, families, and our communities. We are thankful to Superintendent Adams and Principal Brown for their partnership in making this project a success."
Giffen Memorial Elementary School is located in Albany's South End, a high-need area based on its high rates of families living below the poverty level and lack of access to green space. The school currently serves nearly 600 students from pre-K through grade 6. Its playground is used by students and is open to the public for use on evenings and weekend hours.
Prior to this project, Giffen's playground equipment was inadequate for the number of students it serves. There were no swings or climbing bars, and none of it could accommodate children with disabilities. Because of the limited play area, students–especially those in after-school programs–were often restricted to playing indoors in the gymnasium.
"We are grateful to St. Peter's Health Partners and to everyone who donated their time to build this new playground from the ground up," said City School District of Albany Superintendent Kaweeda G. Adams. "This generosity teaches our students the power of kindness and hard work, and will encourage them to be more active and healthy."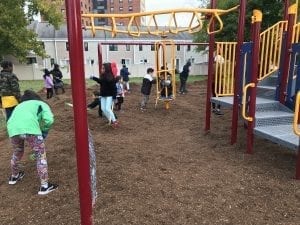 "Having a safe, fun environment to play and have fun is so vitally important to these children," said Jasmine M. Brown, principal of Giffen Memorial Elementary School. "To know that it will brighten their school day and help the surrounding community, too, really warms my heart."
The new playground, built over the course of two days, features higher deck heights, several slides and ladders, and a four-person swing. The variety of activities and structures makes the playground suitable for all grades, including older 6th grade students.