St. Peter's Hospital Surpasses 1,000 Outpatient Total Joint Replacement Surgeries
St. Peter's Joint Replacement Center has performed its 1,000th outpatient total joint replacement at St. Peter's Hospital, a milestone that reinforces the hospital's leadership in orthopedic care both in the Capital Region and across New York state.
"It's a testament to our outstanding staff, who have worked tirelessly to get this program up and running and propel it into the future," said Frederick Fletcher, M.D., medical director of orthopedics at St. Peter's Hospital. "We started performing outpatient joint replacements in 2017. To have 1,000 successful cases in just two years is a terrific accomplishment."
The outpatient total joint replacement program, known as Here Today, Home Tonight, is based on the Enhanced Recovery After Surgery (ERAS) program. The program focuses on several methods of care aimed at enhancing the patient experience. These enhancements include pre-surgery counseling, standardization of pain medications, improved hydration and diet plans, and working with therapists to get patients up and moving soon after surgery. Another critical component of the program is the case manager assigned to each patient. The case manager provides personalized care, following up with phone calls to the patient to ensure a successful recovery. This comprehensive approach helps to accelerate recovery by reducing a patient's post-surgery stress, better supporting the healing process, and enabling the patient to return home the same day as their joint replacement surgery.
Gregg White, a 68-year-old from Eagle Mills, was the Joint Replacement Center's 1,000th patient to receive an outpatient total joint replacement.
An avid golfer and former competitive baseball and softball player, White's knee pain began limiting his activity in early spring.
"It got to the point, where if I tried to walk 18 holes, I would be limping in pain. It felt like a jolt to the knee," White said. Going to the gym became impossible, too. "I couldn't get on the treadmill because of my knee," he said.
After a series of cortisone injections failed to ease his discomfort, White made an appointment with Dr. Fletcher and booked surgery for August 27. White enrolled in the Here Today, Home Tonight program as a total knee replacement patient. By enrolling, White agreed to a set of conditions that included a mandatory pre-surgery class and counseling. As part of the counseling, White spoke with physical therapists and nursing case managers, who worked together to create a detailed rehabilitation plan, which included an extended therapy session shortly after the procedure.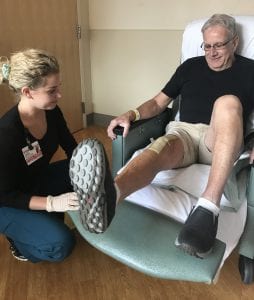 "From the beginning to end, the class told you everything you need to know, so when surgery day comes, there are no surprises," White said. "You know what the process is. It was wonderful and really eliminated any anxiety I had."
White's surgery began at 8:30 a.m. on the morning of Aug. 27. He was up and walking right after surgery and discharged by 3:30 p.m. that afternoon—a timeframe once thought impossible.
"Early in my career, people stayed in the hospital sometimes for two weeks after a total joint replacement," Dr. Fletcher said. "Now that we can do these procedures as outpatient, we get them through the process, get them home, and back to their normal routine as quickly as possible. I think that makes it a better, safer way to perform a knee or hip replacement."
Nurses and therapists agree.
"Patients love it. They want to get right out of bed and walk around," said Keira Coccetti, RN, acute care. "Patients love not having to stay overnight. They are ready to leave as soon as they can and they do, which is really great to see."
Two weeks after his knee replacement, White was back to walking on his own. He is looking forward to getting his old swing back and hopefully hitting the golf course later this fall.
"That's why we do this," said Dr. Fletcher. "The number one reason is pain, and in the process of getting rid of that pain, people are able to get back to almost everything they want to do—golf, tennis, hiking, biking—it really restores their lifestyle."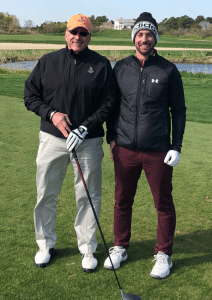 The Here Today, Home Tonight program is offered to both total knee and total hip replacement patients. Ideal candidates are healthy, active individuals who have both the drive and determination to begin moving and walking soon after surgery.
"We are extremely proud of the Orthopedic Care team at St. Peter's Hospital, and congratulate them on the milestone of surpassing 1,000 outpatient total joint replacement procedures," said Steven Hanks, M.D., MMM, FACP, FFSMB, chief clinical officer at St. Peter's Health Partners. "This milestone is the latest recognition of St. Peter's Hospital's regional and statewide leadership in joint replacement surgery, and another example of the sophisticated, high-quality, and highly compassionate care we provide to all of our patients, every day."
St. Peter's Hospital Joint Replacement Center has been recognized annually since 2015 by U.S. News & World Report as a "Top Performing Hospital" in both hip and knee replacement. We are also proud to have been named as one of America's Best Hospitals for Orthopedics by the Women's Choice Award for 2018 and 2019.
We routinely offer joint pain seminars to discuss arthritis, medications, and diet and exercise tips. To learn more about these seminars, please visit www.sphp.com/joint-replacement-sph or call 518-525-2-CARE.

About St. Peter's Hospital
St. Peter's Hospital, an affiliate of St. Peter's Health Partners, is the largest Catholic acute care community hospital in northeastern New York state. Located in Albany, New York, the hospital was founded in 1869 by the Religious Sisters of Mercy. A voluntary, not-for-profit community tertiary hospital, St. Peter's serves nearly 4,000 people every day. The hospital offers a comprehensive range of inpatient and outpatient services and diverse outreach programs in the areas of women's and children's services, neonatal intensive care, rehabilitation, surgery, ambulatory care, outpatient medical imaging, and care for the elderly. For more information, please visit: http://www.sphcs.org.