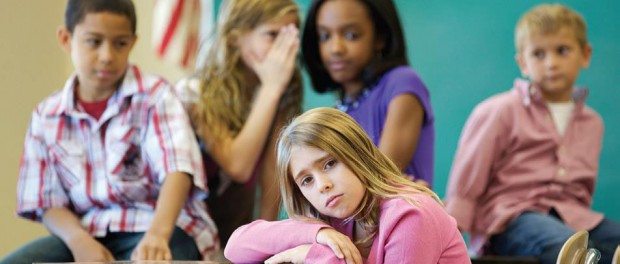 [This piece was written by Diane Tenenbaum, MD, of St. Peter's Children's Health Center.]
The issue of abuse and bullying among school-aged kids continues to make the news, with the National Center Against Bullying reporting last month that one in three students will be bullied in school, either in person or over social media channels.
But while bullying continues to receive heightened media attention, there are still many misperceptions of the problem and its solutions. Bullying is different than fighting or teasing. Bullying is repetitive, negative actions by one person or persons against chosen victims.
The social dynamics of bullying are similar in most settings – bullies begin the school year by picking on a large number of children. Those children whose emotional responses gratify the bullies become the chosen victims for the year. Victims are often smaller and weaker (boys) or more socially isolated (girls) than the bullies.
As more of life has become digital and online, bullies have gone there too. Cyberbullying can be even more frustrating for children, though, as their tormentors are sometimes faceless and harder to identify and stop. The negative effect, though, is no less significant.
It can be challenging to figure out. Look for subtle signs or changes in behavior:
Attention problems in school
Not wanting to go to school an activity
Becoming upset after using the computer or cell phone
Seeming more sad, withdrawn, or moodier than usual
Avoiding questions from you about what is happening
Problems with sleeping or enuresis (bed-wetting)
As with all childhood changes from usual behavior, anything that is extreme and interfering with home, school, and friends warrants further review. Call the school to see if grades are slipping, and call your pediatrician to arrange an evaluation.
Other steps parents and caregivers can take, according to the American Academy of Pediatrics (AAP), include:
Talk to the parents of your child's friends to determine if they have witnessed/experienced bullying
Talk to school staff and know the school's policy on bullying
Help your child identify people at school they can trust and who can be allies
Encourage the child: They should not be treated this way
If a child says he or she was bullied, adults must listen and take it seriously. Bullying is a form of violence against a child, and it is critical to provide the child the necessary help and tools they need to figure out how to be safe and prevent them from being hurt physically and emotionally.
St. Peter's Children's Health Center (1092 Madison Avenue, Albany – 518-525-2445) offers a complete range of services for children from newborns to age 18. Services include well-child routine care, sick child exams, school and camp physicals, sports physicals, immunizations, and access to other hospital services and referrals to specialists.