LiveSmart: Celebrate Passover with Healthier Versions of Family Favorites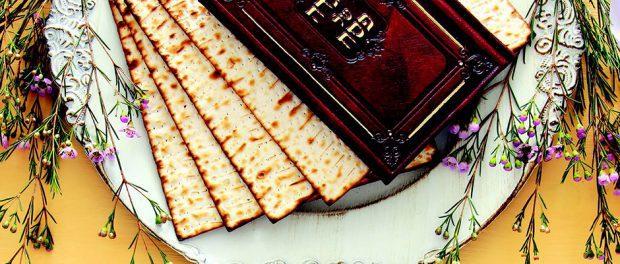 [This piece was written by Liz Katzman, RD, CDN, CNSC, a clinical dietitian with St. Peter's Health Partners.]
Growing up, Passover in our house was the holiday of salt. For eight days, my family added salt to everything. Our biggest offender was matzo brei. Yiddish for "fried matzo," matzo brei is a Passover breakfast staple that is either scrambled like eggs or formed into pancakes and is served savory or sweet. My family ate matzo brei savory with copious amounts of salt.
As a dietitian, it is hard to reconcile my traditional, sodium-drenched memory with a heart-healthy diet. I know many of my patients struggle with this same issue. How can I enjoy traditional holiday foods with my new dietary needs? There are three steps that I rely on to answer this question — adjust, decrease, explore.
Adjust the amount of the offending ingredient.
Each time I make matzo brei, I use less salt. If the lower-sodium flavor is good, then I decrease further the next time until I reach the lowest I can tolerate.
Decrease the portion
If one cup is 500 mg of sodium, then 1/2 cup is 250 mg and a better fit.
Explore new recipes
I found several new recipes and made a game of trying each. By approaching change as a family and centering it around fun, we were able to make new memories and emotional connections to the new meals.
Follow all three or pick one or two to make your traditions fit your health needs. For those celebrating Passover, check out the matzo brei recipe below. It doesn't require any added salt and it is delicious!
"Skinny" Matzo Brei with Spinach

Yield: 4 servings

Modified from: https://www.skinnykitchen.com/recipes/skinny-matzo-brei-with-fresh-spinach-garlic-and-onions/

Ingredients:

3 teaspoons olive oil
2 cups onions (about 1 large), chopped
1 tablespoon fresh garlic, chopped
¼ teaspoon salt
Fresh ground black pepper
10 ounces of fresh spinach or one, 10-ounce package frozen chopped spinach, thawed and drained well
3 whole wheat matzos or regular, unsalted
6 egg whites
3 large eggs
⅔ cup fat free feta cheese (optional)
Salt and pepper to taste

Directions:

Heat 2 teaspoons oil in a large nonstick pan over medium heat until hot. Add onions and garlic and sauté for 2-3 minutes. Stir in spinach and continue cooking for about 1-2 minutes until spinach is soft. Remove to a plate and set aside. Set aside the pan for a moment.

Break up matzo slightly and soak in a bowl of cold water for about 1-2 minutes until soft (not soggy). Drain matzo and squeeze out the water. Combine matzo in a bowl with eggs and egg whites.

In the same pan, heat 1 teaspoon oil over medium-high heat. Add the matzo/egg mixture, cooked onions and spinach and scramble, stirring constantly until eggs are cooked.

Portion on four plates and sprinkle each with feta cheese. Serve immediately.