LiveSmart: Diagnosis Osteoporosis – When is the Time Right for a Bone Density Scan?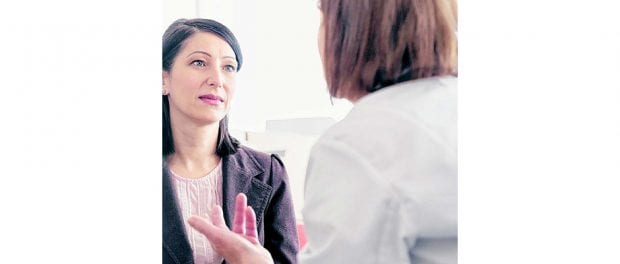 [This piece was written by Peter J. Schuman, DFAAPA, PA-C, CCD, RDMS, RT(R), Clinical Bone Densitometrist and PA for the Department of Medical Imaging, St. Peter's Health Partners.]
The International Osteoporosis Foundation (IOF) estimates that as many as 200 million women worldwide have osteoporosis and low bone mass. Research shows about half of women and one-quarter of men will break a bone due to osteoporosis. These fractures cause pain, deformity, loss of function and, in some cases, can be life threatening.
Osteoporosis – literally "porous bones" – is a common condition that is widely recognized as a health risk. Peak bone mass occurs at about age 35, after which density begins to decline. It becomes most pronounced for women after menopause and for men after age 65.
If not prevented or if left untreated, osteoporosis can progress painlessly, acting as a "silent" disease until a bone fractures. These fractures occur commonly in the hip, spine and wrist.
The most common risk factors for osteoporosis include:
Being female
Estrogen deficiency
History of fracture as an adult
Inactive lifestyle
Alcohol abuse
Cigarette smoking
Low body weight (under 125 lbs.)
Caucasian or Asian race
Low calcium intake
Advanced age
Certain medications, such as steroids, anticoagulants and anticonvulsants
Certain GI diseases (e.g. Crohn's or celiac disease)
Eating disorders (e.g. anorexia and bulimia)
The "gold standard" method to determine if your bones have become porous, as well as to monitor those who are being treated with medication for osteoporosis, is through a bone density scan. The test is called a Dual Energy X-ray Absorptiometry (DEXA) scan.
Utilizing extremely low levels of radiation, the scan – which usually takes about 15 minutes – provides accurate measurements of bone mineral density at the hip, spine, wrist, and other common, osteoporotic-related sites of fracture.
The American College of Physicians has recommended screening for all women aged 65 and over, and women aged 60 and over who have risk factors for osteoporosis. Men over 70 are also encouraged to begin routine bone density screening, although earlier screening could benefit men with multiple risk factors.
St. Peter's Health Partners provides DEXA bone density scans in five convenient locations in the Capital Region:
All bone density scans performed at St. Peter's Health Partners sites are managed and reviewed by Clinical Bone Densitometrists who have received specialized training offered by the International Society for Clinical Densitometry (ISCD), which sets the standard for excellence in bone densitometry worldwide.