LiveSmart: Stay Connected, Stay Informed with St. Peter's MyHealth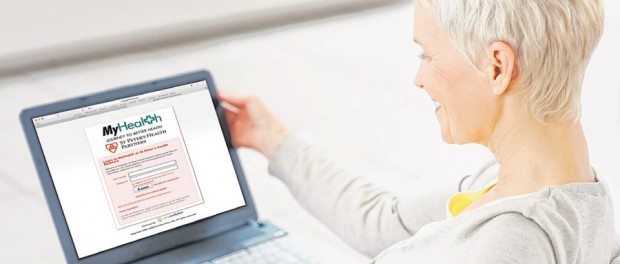 Being a patient in the hospital can be overwhelming. After your stay you may be left with questions like: "What are my lab results? Which doctor treated me during my stay? What medications did I receive?"
To help answer those questions, patients of St. Peter's Health Partners can access MyHealth, a free, secure online patient portal. MyHealth provides 24/7 online access to your health information from St. Peter's Health Partners hospitals, including Albany Memorial, St. Mary's, St. Peter's, Samaritan, and Sunnyview Rehabilitation.
MyHealth allows access to reports and an organized history of your health information from the comfort of your own home computer, tablet, or smartphone. With MyHealth, you are better informed about your health, and are an active partner in your health care.
For example, if you travel out of town and have to see a physician who needs information regarding your last St. Peter's hospitalization, you can log in to your MyHealth account and show the physician your labs, reports, and diagnoses.
After registering for MyHealth during or following your hospital visit, you can access the site at www.sphp.com/MyHealth at any time. In addition to your health information, the MyHealth home page offers training materials, video demos on navigation, frequently asked questions, as well as printing options. Your MyHealth portal information is easily accessible by clicking on specific tabs:
Summary: A one-stop shop for all of your health information including discrete tabs for lab results, reports, medical conditions, encounter history, admitting and attending providers, and allergies and adverse reactions.
Labs: If you have had a lab test completed in our hospital system or an affiliated laboratory, complete details about your results will appear. Lab results are posted as soon as results are made available, and pathology results are released 14 days after signed release from your physician.
Reports: All medical reports are available including discharge instructions, consults, and transcribed notes for radiology results.
Encounter Journal: Display of problems, reports, lab reports, discharge instructions and medications, and procedures in a timeline format. Currently, MyHealth displays health information from January 1, 2011 through today.
My Health Tools: Provides education information about your most recent condition, as well as past conditions.
Download My Health Information: You can easily download and print a personalized summary report of any or all of your health information, as well as a Continuity of Care Document (CCD) to share with your providers electronically.
MyHealth is not for emergency situations; for medical emergencies, you need to call 911. At your next visit, ask your health care provider about setting up your free MyHealth patient portal account, and get started.