St. Peter's Health Partners Celebrates Grand Opening of New Samaritan Hospital Patient Pavilion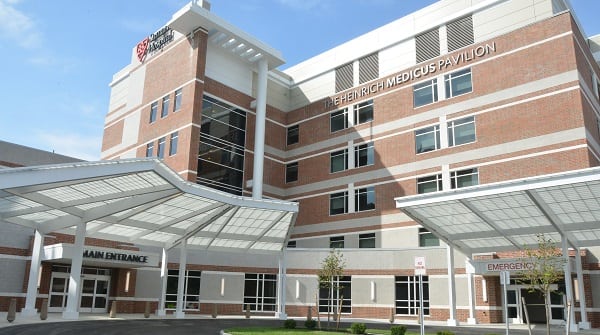 Milestone Marks Conclusion of Six-Year, $105 Million Troy Master Facilities Plan to Transform Health Care in Troy and Surrounding Communities
St. Peter's Health Partners (SPHP) today celebrated the completion of its $105 million Troy Master Facilities Plan (MFP), and held a grand opening for the new Heinrich Medicus Pavilion at Samaritan Hospital.
With its new, state-of-the-art emergency department, intensive care unit, progressive care unit, medical/surgical units, and endoscopy suite, the five-story patient pavilion is the centerpiece of the Troy MFP.
By consolidating inpatient care in Troy at a revitalized and modernized Samaritan Hospital, transitioning St. Mary's into an outpatient campus, and launching other strategic initiatives to increase access and better coordinate care for patients, SPHP has fulfilled the MFP's promise to transform health care in Troy and surrounding communities.
"We embarked upon the Troy Master Facilities Plan with the goal of re-shaping our presence in Troy, so we could provide this community with the right care, at the right place, and at the right time," said James K. Reed, M.D., president and chief executive officer of SPHP. "With the MFP completed, we are now in a better position than ever before to fulfill our promise of providing the highest quality, most compassionate, and most accessible care, to all who need it."
The MFP represented one of the largest private-sector investments in the history of Troy and Rensselaer County.
"Today would not have been possible without the support, talent, and dedication of so many people – our colleagues and physicians, our friends and partners, our generous donors, and our patients and their families," said Mike Finegan, president of acute care at SPHP. "We thank everyone who shared our vision of a healthier Troy, and helped make that dream a reality."
A $25 million capital campaign for the Troy MFP, "Transforming Health Care in Troy, The Campaign for Samaritan and St. Mary's Hospitals," was an integral part of bringing the MFP to its conclusion.
Transforming Health Care in Troy
SPHP broke ground on the MFP in September 2014, and began construction on the Heinrich Medicus Patient Pavilion in November 2015.
Major milestones of the MFP include:
All of the new units at Samaritan Hospital, including the EDU, ICU, PCU, medical/surgical units, and endoscopy suite, were developed with input and feedback from providers and nurses who work in the unit. Each space was designed to provide a comfortable and healing experience for patients, and optimized to provide an ideal setting for physician, nurses, and other clinicians to provide the highest quality and most compassionate patient-centered care.
Construction and Time-Lapse Video
The Heinrich Medicus Pavilion added a total of 188,463 square feet to Samaritan Hospital. The total number of inpatient beds at Samaritan Hospital is now 192, most of which are in private rooms.
The pavilion was designed by architects FreemanWhite, and built by BBL Construction Services. The structure of the new pavilion took an estimated 320,000 person-hours to complete, and features a total of 1,221 tons of steel and approximately 5,600 cubic yards of concrete.
Hugh Wright, RN, a registered nurse in the Samaritan Hospital Clinical Documentation Improvement Department, took a photo of the construction of the hospital's Heinrich Medicus Pavilion every day for nearly two years.
Wright compiled these photos into a one-minute time-lapse video of the construction, which may be viewed at: https://youtu.be/CDkN7ImXiiA
Remembering Heinrich Medicus
As part of the grand opening celebration, SPHP produced a video commemorating beloved philanthropist and former Rensselaer Polytechnic Institute professor Heinrich A. Medicus, for whom the Heinrich Medicus Pavilion is named. Medicus passed away on Sunday, February 28, 2017.
In 2013, while he was a resident of Beechwood, SPHP's independent senior living community in Troy, Medicus anonymously donated $10 million to SPHP to help advance the MFP. The donation represented the largest individual gift ever bestowed upon a health care institution in the history of Troy and Rensselaer County.
A year later, in 2014, Medicus' identity was revealed at the groundbreaking for the MFP.
"Donating makes you reduce a bit of your assets but makes you wealthy in your soul," Medicus said at the time. "I hope that others feel the same pride as I do to help create a place that brings health to many thousands in our region. I hope they see that it is worthwhile to support Samaritan and St. Mary's hospitals."
Medicus was born in Zurich, Switzerland in 1918. When the Nazis took over in Germany in 1933, he and his family resigned their German citizenship, becoming Swiss. Medicus would become an American citizen when he settled in Troy later in his life.
He joined the faculty of Rensselaer Polytechnic Institute in 1955, and spent the next 32 years there as a professor.
In 1978, Medicus and his siblings inherited a considerable fortune from their Swiss industrialist uncle. But, Medicus did not change his lifestyle after receiving the inheritance and as the stock market started its long ascent, his wealth grew.
Over the years, Medicus became a donor and philanthropist quietly and slowly, giving some of his fortune away through gifts, always with great purpose. Both he and wife Hildegard had been patients at Samaritan Hospital and he appreciated Samaritan for being friendly, well-managed and up-to-date, with experienced doctors. So, the couple began giving considerable sums to Samaritan. Medicus and Hildegard married in 1961 and had enjoyed nearly five decades together when Hildegard was diagnosed with kidney cancer in 2006. She died in 2008 at the age of 80.
In 2010, when Samaritan was in need of money to buy the daVinci robotic-assisted operating system, Medicus jumped at the chance.
In November 2016, SPHP announced it would name its Troy cancer centers at Samaritan and St. Mary's hospitals in memory of Medicus' late wife. The naming was in appreciation of Medicus' generosity in donating an additional $1.5 million gift to advance cancer services at SPHP.
The St. Mary's Cancer Treatment Center was renamed the St. Mary's Hospital Hildegard Medicus Cancer Center, and Samaritan Radiation Oncology was renamed the Samaritan Hospital Hildegard Medicus Cancer Center.
Watch a video commemorating Medicus and his wife at: https://youtu.be/GdlZBaSo09A