LiveSmart: During Uneasy Times, Healthy Food Provides Comfort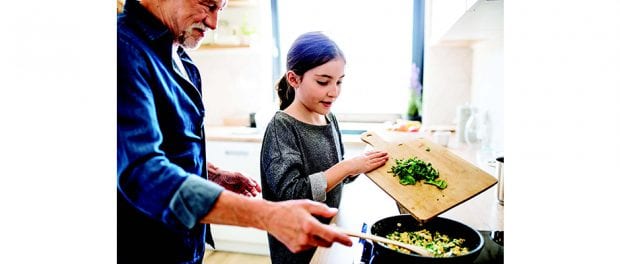 [This story was written by Jamie Epting, MS, RD, CDN, the system director of clinical nutrition with St. Peter's Health Partners.]
The COVID-19 (coronavirus) pandemic is leaving many in a state of worry and anxiety. In times like this, it is especially hard not to reach for the wrong foods to help make us feel better. The reality is, however, the satisfaction is short lived, the guilt sets in, and our body misses out on the nutrients it really needs to help us feel good and stay strong.
What we have, then, is an opportunity to change our mindset to the positive, particularly while health care experts urge us all to practice "social distancing." We should take advantage of the situation and use the time to reconnect with our immediate family and enjoy meals together, when we might otherwise be running from one thing to the next.
It's also a great time to try something new, since we are being advised to eat and prepare meals in our homes. Cooking together is a great opportunity to engage those kids that are out of school. It can be a lesson in science, math, life skills, following instructions, listening, and all those things we want to keep teaching while their more formal lessons are on hold.
In honor of National Nutrition Month this March, the clinical team at St. Peter's Health Partners has been celebrating the Mediterranean diet. The foundation of the Mediterranean diet is simple, plant-based cooking, with the majority of each meal focused on fruits and vegetables, whole grains, beans and seeds, with a few nuts and extra virgin olive oil. Meat and sweets aren't forbidden, but used sparingly.
If you are feeling anxious and it is impacting your appetite, the Mediterranean diet provides for healthful snacks that will keep you fueled and healthy. Nuts, fresh fruits and vegetables, dried fruits, Greek yogurt, hummus, cheese (in moderation), and crunchy treats like beet chips, roasted chickpeas, or apple slices spread with almond butter are all great choices.
If a hearty pasta-based dish sounds like something you and your family would enjoy, I recommend the two recipes below. Right now, taking comfort in healthy food and family, and reinforcing those connections, can make all the difference.
Whole Grain Spaghetti with Arugula Walnut Pesto (From Morrison Healthcare)
Ingredients:
8 oz whole grain spaghetti
½ cup walnuts
3-4 peeled garlic cloves
2 Tbsp extra virgin olive oil
1/8 tsp Kosher salt
1-1/2 cups baby arugula lettuce
1-1/3 cups cannellini beans, drained and rinsed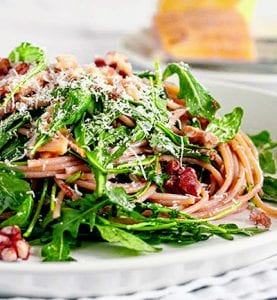 Directions:
Cook pasta according to package instructions.
Using a food processor or blender, chop arugula and walnuts for 30 seconds. Add garlic, olive oil and salt. Continue until desired consistency.
If pesto is not smooth enough, add water a teaspoon at a time until consistency is saucy.
Mix pasta and beans with pesto until well coated. (You may have some leftover pesto to use as a dip for your veggies, or you can mix it into some plain Greek yogurt to make a creamy dip.)
Creamy Greek Salad Pasta (from www.thehungrybites.com)
Ingredients:
1 pound fusilli pasta (you can also use penne, rigatoni, farfalle or elbow macaroni)
2 large tomatoes, diced
2 small Persian cucumbers, diced (or about 1 cup chopped English cucumber)
1/2 red onion, finely chopped
1/2 red bell pepper, chopped
1/2 green bell pepper, chopped
1/2 cup sliced olives
7oz (200 grams) feta cheese, cubed or crumbled
1 cup corn kernels (I buy them frozen and cook them in boiling water for 2 minutes)
1 cup strained Greek yogurt 2% fat (you can also use full fat)
1/2 cup parsley, chopped
1-2 tsp dried oregano
2-3 Tbsp extra virgin olive oil
Salt and pepper to taste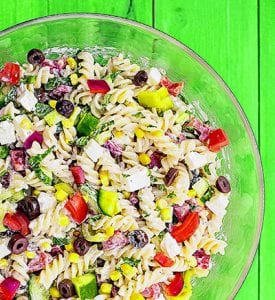 Directions:
Take care to chop all the vegetables about the same size.
Cook the pasta according to the directions on the package, drain well using a colander and rinse with cold water until no longer warm. Set aside to drain.
Transfer all the ingredients to a large bowl and mix gently with a spatula until everything is combined. Taste and adjust salt.
Serve immediately or refrigerate for one hour to chill.
Eat!