LiveSmart: Think Smart When Tackling Summer Gardening, Yardwork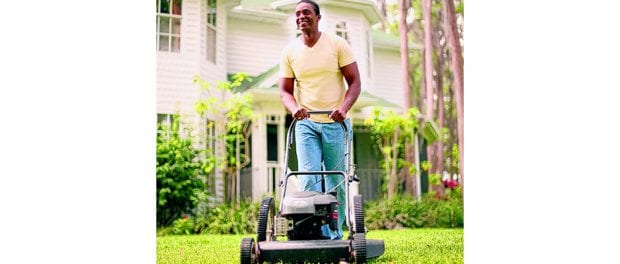 With temperatures now regularly soaring into the 80s, it truly feels like summer has arrived. For many, summer means weekend duties involving lawn mowers, tractors and weed-trimmers.
Each summer, the emergency departments of St. Peter's Health Partners treat a number of people who have hurt themselves with yard maintenance equipment. Following basic safety precautions can prevent injuries to hands, feet, eyes or other parts of the body.
According to figures from the federal government, there are nearly 70,000 such cases nationally every year, including 9,000 to persons under age 18.
To avoid having an injury ruin your summer, follow safety tips including:
Clear the area of rocks, sticks, etc., before mowing
Only gas up the mower when the engine is cold
Don't mow on wet grass
Turn off the engine before removing blocked objects
Keep children and pets at a safe distance
Don't leave a running machine unattended
Use sturdy footwear
Don't mow in reverse unless absolutely necessary
With a riding mower, mow slopes up and down; with walk-behind mowers, mow slopes from side to side. With an electric mower, keep moving away from the outlet to avoid running over the cord. Children should be at least 12 to use walk-behind mowers and 16 for lawn tractors; and don't let a child be a passenger on a riding mower.
According to the U.S. Consumer Product Safety Commission, there are an estimated 5,000 emergency cases nationally per year due to injuries from weed trimmers. Much of the same advice applies: clear the area of sticks, stones and other objects; wear goggles; and keep children away.
Whenever you are going to be outside for more than 15 minutes, use sunblock to protect everyone from sunburn (and possibly developing skin cancer). Drink enough water to avoid overheating and possible heat stroke.
In addition to injury prevention, people with certain conditions must also take care in the summer. Persons with asthma who have certain environmental allergies, such as to pollen, should be careful not to get over-exposed. And the very young, very old or persons with underlying heart conditions are also at high risk for heat illness.
When every second counts, St. Peter's Health Partners has top-quality emergency departments and urgent care centers all across the Capital Region. Our emergency departments in Albany and Troy are open 24 hours, seven days a week, offering a wide range of services for emergency care with highly trained staff, diagnostic testing and access to specialists. The entire team at St. Peter's Health Partners is here to support you and your family when you need us most.
For more information, visit us at http://www.sphp.com/ed-urgent-care