LiveSmart: Winter Exercise – Be Sure to Dress for Success!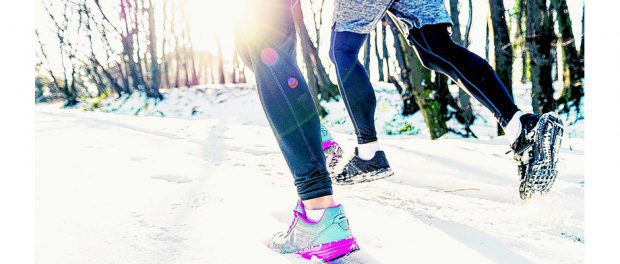 [This story was written by Jeff Yash, Physical Therapist and Supervisor at East Greenbush Physical Rehabilitation] 
Although our winter so far has been a bit on the mild side, we all know that the howling winds and falling snow are right around the corner. Between those unfriendly elements and the darkness outside in the morning and at night, many exercise routines have the potential to be derailed.
Where a lot of people would simply move their routine indoors for the next four months, limited access at many wellness centers and gyms due to COVID have left many wondering if they should just take a break from exercise. But now, more than ever, it's important to keep physically and emotionally healthy.
The hardest part is getting out the door. You may feel tempted to stretch longer than usual, and that's good! Your muscles and joints are much more vulnerable to injury when they're cold, so consider warming up for a few minutes by running in place.
Staying Warm
The key to staying warm is dressing in layers, preferably of lightweight, high-tech fabrics especially made for winter exercise.
The inner layer, made of polypropylene or a similar microfiber, should be breathable and able to wick moisture away from the skin. The middle layer should provide insulation, and synthetic fleece is ideal for this purpose. Many fleeces are waterproof as well, or at least quick drying to get rid of perspiration. The outer layer or shell should be as windproof and waterproof as possible.
Dress so that you feel a bit cold for the first five minutes or so; after that time, you'll feel 20 degrees warmer than the actual temperature. The advantage of dressing in layers is that you can strip the outer layers off if conditions change or you get too warm.
A hat is crucial since about 40 percent of body heat is lost through the head and neck. Gloves are also essential and, like the hat, should be made of breathable, water-resistant material.
When it's very cold, it's important to keep skin covered. Wet skin exposed to a chilling wind can become frost bitten very quickly – it can happen in less than a minute. Frost bite doesn't occur in temperatures above freezing, however, no matter how bitter the wind.
Although you may not realize that you're sweating, you're losing fluids during winter exercise. You need to get plenty to drink before going out and consume about eight ounces of water for every 15 minutes of exercise.
Finally, it's important not to try to do too much. An hour is probably long enough for a winter workout unless you're a seasoned veteran. And observe some sensible limits: don't venture out when the temperature or chill factor is below zero or when visibility and traction are severely limited by snow and ice.
Whatever you do, don't give in to the urge to curl up in front of the fire and hibernate – lace up your sneakers and enjoy some winter exercise.
East Greenbush Physical Rehabilitation offers a full range of outpatient physical therapy and occupational therapy services at 2 Empire Drive, Suite 202, in East Greenbush. It is part of St. Peter's Health Partners Patient Therapies, which has a variety of outpatient physical therapists and occupational therapists at locations throughout the Capital District, accepting all insurances and providing quality one-on-one treatment.
For information, please call 518-286-4990 or visit us at www.sphp.com/patient-therapies