LiveSmart: Oh, Snow! Exercise Caution When Shoveling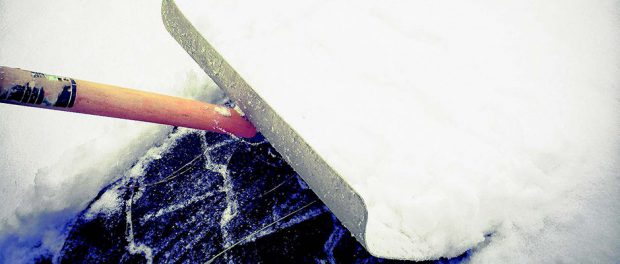 [This piece was written by Frank Dimase, MD, Chief of Emergency Medicine at St. Peter's Hospital.]
The first snow accumulation of the year is always a sight to behold. But, by mid-January the wonder has begun to wear off, giving way to the harsh reality that someone has to clear the driveway and sidewalk.
The good news: The U.S. Surgeon General noted that 15 minutes of snow shoveling qualifies as moderate physical activity. That's half of your recommended daily amount of 30 minutes!
But, much depends on how heavy the snow is, how vigorously you shovel, your age and your physical condition. According to a recent study, sedentary adult men saw their heart rates rise above recommended training levels for their age after only two minutes of shoveling.
If you've been sedentary for several years, you should be as cautious about snow shoveling as you have been about exercise. In fact, shoveling is probably more stressful than exercise to the out-of-shape heart because it involves rapid, intense movements that cause blood pressure and heart rate to rise quickly. Cold weather can add to the stress.
Numerous studies indicate that emergency departments admit an abnormally large number of heart patients during and after blizzards. Even more common during snow season are visits to the doctor or the emergency room for sprains and strains, particularly of the back, shoulders or hips.
To ensure safe shoveling, keep in mind:
If you must lift the snow, keep your legs apart, knees bent and back straight. Lift with your legs.
Either warm up your muscles before you step out of the house or work slowly for the first five or 10 minutes.
Pace yourself and give yourself plenty of breaks.
Drink plenty of fluids.
Use a shovel that is right for your height and your strength. Space your hands in a way that will increase your leverage. Avoid holding a large shovel full of snow with your arms outstretched.
If you have deep snow to remove, never try to do it all at once. Work a layer at a time, and take frequent rests.
Make sure you're dressed for the occasion – layer clothing that will keep you dry and protect you from the cold.
If you have chest pain, shortness of breath or other heart signs, stop immediately and get medical care.
 The Emergency Department (ED) at St. Peter's Hospital is staffed with a team of specially trained professionals who respond to a wide range of illnesses and injuries – 24 hours a day, seven days a week – for patients of all ages. The ED includes a full staff of board-eligible/certified emergency physicians, physician's assistants, nurse practitioners, nurses, respiratory therapists, social workers, patient-care technicians, patient information associates, and chaplains who work together as a team to provide a patient-focused approach to emergency care.